Brain Power: Maximize Communication and Cognitive Skills for Your Business Success
ISBN: 978-0-471-20188-5
217 pages
April 2002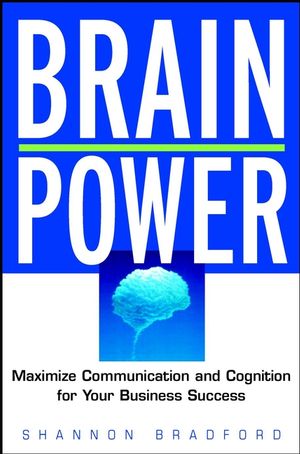 Presents an interdisciplinary approach to cognitive skills and the brain, explaining how to maximize thinking and communication, how to think through problems, and how to respond to stressful situations.
* Features fun and informative self-quizzes, sidebars, graphics, quotations, and checklists.
* Offers an action plan for success, showing how to increase productivity, anticipate upper management's needs, and more.
See More
Introduction.

How to Use This Book.

1 Not Your Father's Economy: What Has Changed and Why Thinking = Value.

2 The Original Search Engine Brain.

3 Brain Operating Principle 1: Bermuda Triangles of Information: Given a black hole of information, people will fill the hole with Negative Conclusions.

4 Brain Operating Principle 2: Drive for Closure: People will strive for completion or a definitive answer, even when Neither Exists.

5 Brain Operating Principle 3: Infinite Loop Thinking: When people are stuck in a thinking loop, they are unable to See Alternatives.

6 Brain Operating Principle 4: Mental Maps: People rely on Mental Maps, made up of assumptions and unwritten rules, as Mental Shortcuts.

7 Brain Operating Principle 5: Repetition Required: People need repetition to learn, whether it is a new skill, instructions for a task, or meeting Business Goals.

8 Brain Operating Principle 6: What You Focus On Expands: What people focus on will grow in Their Perception.

9 Brain Operating Principle 7: What You Resist Persists: When people give their attention to something or push against something by resisting it, that something Will Persist.

References.

Acknowledgments.

About the Author.

Index.
See More
SHANNON BRADFORD is a business trainer, speaker, and consultant, as well as the CEO and Chief Thinkologist of Mind Capital, a firm that specializes in training for marketing and human resources managers. Her clients include Disney, DuPont, Harris Corporation, Shell Chemical, and Volvo. Bradford has seventeen years of experience in marketing, public relations, and consulting, most recently for the business-to-business group of Saatchi & Saatchi.
See More