Textbook
Research Methods for Business: A Skill Building Approach, 4th Edition
ISBN: 978-0-471-20366-7
464 pages
September 2002, ©2003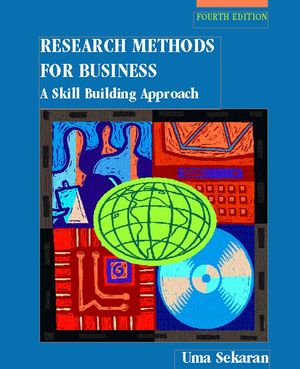 Reputed for its clear and practical approach, Sekaran offers a framework for conducting research in a scientific man-ner in all areas of business. Students learn to develop practical knowledge and skills to understand and carry out re-search projects. This new edition helps students understand the ways in which systematic research can be conducted to describe, explain, and predict phenomena of interest pertaining to business. Managerial relevance and ethical im-plications are discussed in several chapters. This text is suitable for the Business Research or Research Methods course taken by Junior/Senior/MBA students in the School of Business.
See More
Chapter 1. Introduction to Research.

Chapter 2. Scientific Investigation.

Chapter 3. Technology and Business Research.

Chapter 4. The Research Process: Steps 1 to 3: The Broad Problem Area, Preliminary Data Gathering, Problem Definition.

Chapter 5. The Research Process: Steps 4 and 5: Theoretical Framework Hypothesis Development.

Chapter 6. The Research Process: Step 6: Elements of Research Design.

Chapter 7. Experimental Designs.

Chapter 8. Measurement of Variables: Operational Definition and Scales.

Chapter 9. Measurement: Scaling, Reliability, Validity.

Chapter 10. Data Collection Methods.

Chapter 11. Sampling.

Chapter 12. Data Analysis and Interpretation.

Chapter 13. The Research Report.

Chapter 14. Managerial Decision Making and Research.

Module: A Refresher on Some Statistical Terms and Tests.

A Final Note to the Student.

Glossary of Terms.

References.

Statistical Tables.

Index.
See More
The chapter on Technology and Research (Chapter 3) has been completely revised and updated to reflect the current trends and impact of technology on research.
A case study has been added to the last chapter to elucidate the importance of research for business success. An update has also been offered to the previous edition's (sole) case study, again illustrating the importance of re-search in organizations.
End of the chapter exercises/ mini cases have been added for additional insights to students.
Some formulas on Sampling have been revised.
See More
The importance, nuances and pitfalls in cross-cultural research are clearly brought out in the relevant chapters. The final chapter concludes with a case study involving cross-cultural research and also weaves together the in-ductive-deductive aspects of research.
The managerial relevance of research is brought out throughout the book, providing the incentive for students to learn and know more about research.
Sekaran?s edge over her competition is her clear, practical, conversational and concise style of writing. This al-lows students to focus on the theory presented and immediately apply it to research projects. Reviewers consis-tently state that the book is more direct than the competition and that the strength of the book is its clear presen-tation of ideas.
The integrated Examples and Projects provide students with the skills they need to carry out research projects. Abridged cases are used as Exercises at the end of the chapter. Answers are provided in the Instructor's Manual. Appendices to several chapters enhance the text's utility in upper-level courses.
Each chapter also includes Chapter Objectives, a Chapter Summary, and Discussion Questions and Point to Ponder.
See More
Students Resources
Wiley Student Companion Site
Coming Soon!
View Sample content below:
See More
See Less