Java Tools for Extreme Programming: Mastering Open Source Tools, Including Ant, JUnit, and Cactus
ISBN: 978-0-471-20708-5
Paperback
544 pages
November 2001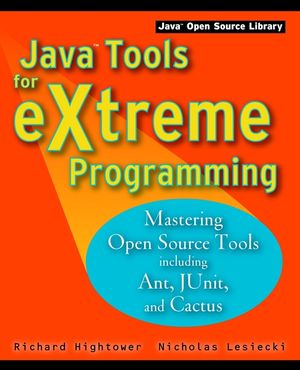 This title is out-of-print and not currently available for purchase from this site.
Acknowledgments.

Introduction.

PART I: INTRODUCTION AND KEY CONCEPTS.

Introduction to Extreme Programming.

J2EE Deployment Concepts.

Example Applications.

PART II: MASTERING THE TOOLS.

Continuous Integration with Ant.

Building Java Applications with Ant.

Building J2EE Applications with Ant.

Unit Testing with JUnit.

Testing Container Services with Cactus.

Functional Testing with HttpUnit.

Measuring Application Performance with JMeter.

Load Testing with JUnitPerf.

PART III: API AND TAG REFERENCE.

Ant Tag Reference.

Ant API Reference.

JUnit API Reference.

Cactus API Reference.

HttpUnit API Reference.

Index.