Microwave Solid State Circuit Design, 2nd Edition
ISBN: 978-0-471-20755-9
920 pages
April 2003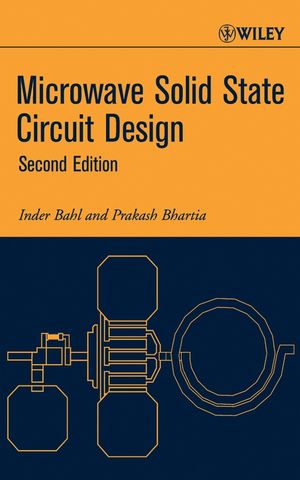 Provides detailed coverage of passive and active RF and microwave circuit design.
Discusses the practical aspects of microwave circuits including fabrication technologies.
Includes a treatment of heterostructure and wide-band gap devices.
Examines compact and low cost circuit design methodologies.
See More
Preface.
Introduction (P. Pramanick & P. Bhartia).
Transmission Lines and Lumped Elements (I. Bahl).
Resonators (A. Sharma & A. Khanna).
Impedance Transformation Techniques (P. Shastry).
Hybrids and Couplers (P. Bhartia & P. Pramanick).
Filters (E. Griffin & I. Bahl).
Active Devices (R. Trew).
Passive Devices (R. Trew).
Oscillators (A. Khanna).
Amplifiers (I. Bahl & E. Griffin).
Detectors and Mixers (R. Harrison).
Microwave Control Circuits (K. Gupta).
Frequency Multipliers and Dividers (R. Harrison).
RF MEMS Devices and Circuit Applications (R. Ramadoss & K. Gupta).
Circuit Fabrication Technologies (I. Bahl).
Appendix A: Units and Symbols.
Appendix B: Physical Constants and Other Data.
Appendix C: ABCD and S-Parameters.
Appendix D: Transfer Function Responses.
Index.
See More
INDER BAHL, PhD, received a PhD in electrical engineering from the Indian Institute of Technology, Kanpur, India in 1975. Currently a Distinguished Fellow of Technology at M/A-COM, Dr. Bahl has over thirty years of experience in microwave technology, including twenty years in the GaAs MMIC-related topics. He has authored over 140 research papers, ten books, and holds fifteen patents. Dr. Bahl is an IEEE fellow and a member of the Electromagnetic Academy.
PRAKASH BHARTIA, PhD, obtained his MSc and PhD degrees from the University of Manitoba, Winnipeg. He is currently Director General of the DRDC Ottawa laboratory in Ottawa. He has published extensively in refereed journals and has many books and patents to his credit. Dr. Bhartia is a Fellow of the Royal Society of Canada, a Fellow of the IEEE, IETE, Canadian Academy of Engineers, and the Engineering Institute of Canada. In 2002, he was awarded IEEE Canada's highest award, the A. G. L. McNaughton Gold Medal for Exceptional Contributions to Engineering.
See More