Global Convertible Investing: The Gabelli Way
ISBN: 978-0-471-20982-9
368 pages
December 2001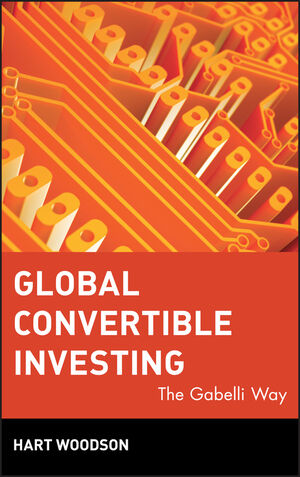 Proven convertible investing approaches from a global leader
Global Convertible Investing: The Gabelli Way offers novice and experienced investors alike a comprehensive guide. In-depth analysis takes readers step-by-step through the process of understanding what convertibles are, how to value and price them, how to identify convertibles with potential, and how to profit from them. The proven approaches of the Gabelli Asset Management firm gives readers an inside perspective on option pricing theory, convertible valuation techniques, mandatory convertible securities, and much more. With Global Convertible Investing: The Gabelli Way readers will be able to learn from the firm's proven methods and approaches and apply them to use convertibles as a profitable investment vehicle for themselves.
See More
List of Figures

List of Tables

Introduction

Preface

Acknowledgments

PART ONE: THE CONVERTIBLE BASICS

Chapter 1: Anatomy of a Convertible

Chapter 2: Convertible Structures: Let Me Count the Ways

Chapter 3: Understanding the Prospectus: Caveat Emptor

Chapter 4: Global Convertible Markets

Chapter 5: Benchmarks and Performance: Global and Domestic Indices

Chapter 6: Convertible Valuation: A Cultural Overview

PART TWO: CONVERTIBLE PRICING AND VALUATION

Chapter 7: Option Pricing Theory

Chapter 8: Using the Black-Scholes Model to Price a Convertible Bond

Chapter 9: Sensitivity Analysis: The Greeks

Chapter 10: Convertible Bond Pricing: Binomial Trees

Chapter 11: Convertible Bond Pricing: Put plus Stock plus Yield Advantage

PART THREE: CONVERTIBLE HEDGING

Chapter 12: Convertible Arbitrage

Chapter 13: Hedging with Options

Chapter 14: Hedging Interest Rate and Default Risk

Chapter 15: Hedging Currency Risk

PART FOUR: SPECIAL TOPICS

Chapter 16: Mandatory Convertible Securities

Chapter 17: Busted Convertibles: Market Overview

Chapter 18: Investing in Busted Convertibles

Chapter 19: The Investment Decision

Epilogue

Appendix 1: MCS Name Variations

Appendix 2: Useful Internet Sites

Glossary of Notation

Glossary of Terms

Bibliography

Index
See More
HART WOODSON is the Managing Director of Gabelli Asset Management (UK) Ltd. He joined Gabelli (New York) in 1993 as a Senior Vice President and Portfolio Manager. Before joining Gabelli, he worked in Amsterdam, the Netherlands, for ABN AMRO Bank where he was responsible for new issue activities concerning convertible bonds, preferred shares, and warrants in all currencies. Prior to that he worked in New York for AMRO Bank in the Capital Markets Group and as a Credit Analyst for Meridien International Bank. Mr. Woodson graduated from Trinity College, Hartford, with honors in history and international relations. He received his master's degree in international affairs from Columbia University, New York, where he was elected an International Fellow.
See More