Black Stars of the Harlem Renaissance
ISBN: 978-0-471-21152-5
128 pages
September 2002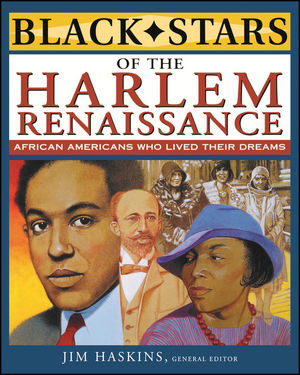 AFRICAN AMERICAN HISTORY COMES TO LIFE

Discover why young people all over the country are reading the Black Stars biographies of African American heroes. Here is what you want to know about the lives of great black men and women during the fabulous Harlem Renaissance:

louis "satchmo" armstrong
eubie blake
thomas andrew dorsey
w. e. b. du bois
duke ellington
james reese europe
jessie redmon fauset
marcus garvey
w. c. handy
fletcher henderson
langston hughes
zora neale hurston
hall johnson
henry johnson
oscar micheaux
philip payton jr.
gertrude "ma" rainey
paul robeson
augusta savage
noble sissle
bessie smith
james van der zee
dorothy west
carter g. woodson

"The books in the Black Stars series are the types of books that would have really captivated me as a kid."
-Earl G. Graves, Black Enterprise magazine

"Inspiring stories that demonstrate what can happen when ingenuity and tenacity are paired with courage and hard work."
-Black Books Galore! Guide to Great African American Children's Books

"Haskins has chosen his subjects well . . . catching a sense of the enormous obstacles they had to overcome. . . . Some names are familiar, but most are little-known whom Haskins elevates to their rightful place in history."
-Booklist

"The broad coverage makes this an unusual resource-a jumping-off point for deeper studies."
-Horn Book
See More
Acknowledgments.
Introduction.
W. E. B. Du Bois.
W. C. Handy.
Philip A. Payton Jr.
Jessie Redmon Fauset.
Eubie Blake and Noble Sissle.
Oscar Micheaux.
Gertrude "Ma" Rainey.
James Van Der Zee.
Marcus Garvey.
Francis Hall Johnson.
Zora Neale Hurston.
Augusta Savage.
Bessie Smith.
Paul Robeson.
Duke Ellington.
Thomas Andrew Dorsey.
Louis Armstrong.
Langston Hughes.
Dorothy West.
Chronology.
Notes.
Bibliography.
Picture Credits.
Author Credits.
Index.
See More
Black Stars biographies are written by leading African American children s book writers. JIM HASKINS has written more than 100 nonfiction books for young readers. A professor of English at the University of Florida, Gainesville, Haskins has won numerous awards, including the Washington Post Children s Book Guild Award, the Carter G. Woodson Award, and the Coretta Scott King Book Award.
See More