Black Enterprise Lessons from the Top: Success Strategies from America's Leading Black CEOs
ISBN: 978-0-471-21314-7
238 pages
June 2002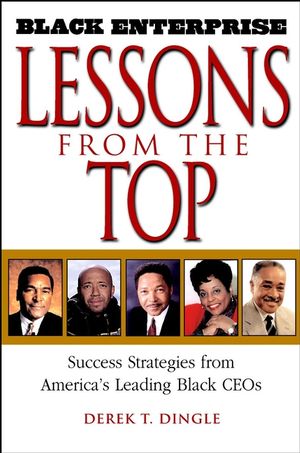 PRAISE FOR LESSONS FROM THE TOP

"[Lessons from the Top] challenges the vintage profile of the entrepreneur by showcasing the impressive and dynamic careers of African American executives who surmounted social, economic, and political barriers to gain their deserved place in today's world of the business elite."
-Kweisi Mfume, President and CEO, NAACP

"[Lessons from the Top] aptly documents the achievements of African American entrepreneurs who embody the legacy of the twentieth century and the hope of the twenty-first century. The principles espoused by these esteemed business leaders are essential to the future of the civil rights movement as we prepare our children for self-reliance and our adults for economic self-sufficiency in the next century."
-Hugh B. Price, President, National Urban League

Lessons from the Top profiles eleven of the most powerful and influential CEOs of the nation's largest black-owned businesses across a broad cross section of industries. These compelling and motivating stories of personal triumph and business success will surely light the way for the next generation of great African American business leaders.

Don H. Barden * Emma C. Chappell * Mel Farr Sr. * Charles H. James III * John H. Johnson * Robert L. Johnson * Byron E. Lewis * Herman J. Russell * Russell Simmons * Clarence O. Smith * Percy E. Sutton
See More
Foreword by Earl G. Graves.

Introduction.

The Pioneer (John H. Johnson).

The Brand Master (Robert L. Johnson).

The Salesman (Clarence O. Smith).

The Hip-Hopreneur (Russell Simmons).

Mr. Madison Avenue (Byron E. Lewis).

The Superstar (Mel Farr, Sr.).

The People's Banker (Emma C. Chappell).

The Builder (Herman J. Russell).

The Strategist (Charles H. James III).

The Politician (Percy E. Sutton).

The Player (Don H. Barden).

Acknowledgments.

Index.
See More
DEREK T. DINGLE is Executive Editor of Black Enterprise magazine. For more than a decade, he has covered the B.E. 100s, which profile the 100 largest black-owned businesses, and he recently served as writer for B.E. 100s Exclusive, a newsletter for CEOs of these companies. In addition to his role as the managing editor of BE several years ago, he served as president and CEO of Milestone Media, Inc., which was the nation's largest black-owned comic book company.
See More