Pharmaceutical Manufacturing Handbook, 2 Volume Set
ISBN: 978-0-471-21391-8
2240 pages
March 2008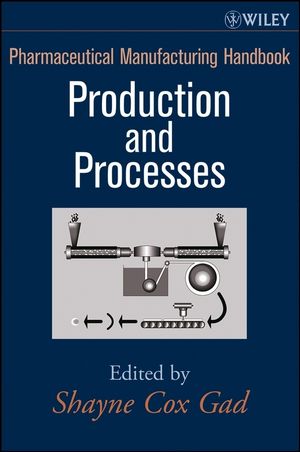 Pharmaceutical Manufacturing Handbook covers a range of topics to help professionals better understand the methods used in the pharmaceutical manufacturing, pharmaceutical engineering, and process engineering fields. It covers many aspects, such as the building of a facility, to the various dosage and delivery forms available, and finally to the principles of validation. Other topics include quality assurance and regulatory requirements. Without exposure to all of these topics, professionals and others in the various pharmaceutical fields will not be able to produce quality drugs.
See More
Pharmaceutical Manufacturing Handbook: Production and Processes
PREFACE xiii
SECTION 1 MANUFACTURING SPECIALTIES 1
1.1 Biotechnology-Derived Drug Product Development 3
Stephen M. Carl, David J. Lindley, Gregory T. Knipp, Kenneth R. Morris, Erin Oliver, Gerald W. Becker, and Robert D. Arnold
1.2 Regulatory Considerations in Approval on Follow-On Protein Drug Products 33
Erin Oliver, Stephen M. Carl, Kenneth R. Morris, Gerald W. Becker, and Gregory T. Knipp
1.3 Radiopharmaceutical Manufacturing 59
Brit S. Farstad and Iván Peñuelas
SECTION 2 ASEPTIC PROCESSING 97
2.1 Sterile Product Manufacturing 99
James Agalloco and James Akers
SECTION 3 FACILITY 137
3.1 From Pilot Plant to Manufacturing: Effect of Scale-Up on Operation of Jacketed Reactors 139
B. Wayne Bequette
3.2 Packaging and Labeling 159
Maria Inês Rocha Miritello Santoro and Anil Kumar Singh
3.3 Clean-Facility Design, Construction, and Maintenance Issues 201
Raymond K. Schneider
SECTION 4 NORMAL DOSAGE FORMS 233
4.1 Solid Dosage Forms 235
Barbara R. Conway
4.2 Semisolid Dosages: Ointments, Creams, and Gels 267
Ravichandran Mahalingam, Xiaoling Li, and Bhaskara R. Jasti
4.3 Liquid Dosage Forms 313
Maria V. Rubio-Bonilla, Roberto Londono, and Arcesio Rubio
SECTION 5 NEW DOSAGE FORMS 345
5.1 Controlled-Release Dosage Forms 347
Anil Kumar Anal
5.2 Progress in the Design of Biodegradable Polymer-Based Microspheres for Parenteral Controlled Delivery of Therapeutic Peptide/Protein 393
Shunmugaperumal Tamilvanan
5.3 Liposomes and Drug Delivery 443
Sophia G. Antimisiaris, Paraskevi Kallinteri, and Dimitrios G. Fatouros
5.4 Biodegradable Nanoparticles 535
Sudhir S. Chakravarthi and Dennis H. Robinson
5.5 Recombinant Saccharomyces cerevisiae as New Drug Delivery System to Gut: In Vitro Validation and Oral Formulation 565
Stéphanie Blanquet and Monique Alric
5.6 Nasal Delivery of Peptide and Nonpeptide Drugs 591
Chandan Thomas and Fakhrul Ahsan
5.7 Nasal Powder Drug Delivery 651
Jelena Filipovic Grcic and AnitaHafner
5.8 Aerosol Drug Delivery 683
Michael Hindle
5.9 Ocular Drug Delivery 729
Ilva D. Rupenthal and Raid G. Alany
5.10 Microemulsions as Drug Delivery Systems 769
Raid G. Alany and Jingyuan Wen
5.11 Transdermal Drug Delivery 793
C. Scott Asbill and Gary W. Bumgarner
5.12 Vaginal Drug Delivery 809
José das Neves, Maria Helena Amaral, and Maria Fernanda Bahia
SECTION 6 TABLET PRODUCTION 879
6.1 Pharmaceutical Preformulation: Physicochemical Properties of Excipients and Powers and Tablet Characterization 881
Beom-Jin Lee
6.2 Role of Preformulation in Development of Solid Dosage Forms 933
Omathanu P. Perumal and Satheesh K. Podaralla
6.3 Tablet Design 977
Eddy Castellanos Gil, Isidoro Caraballo, and Bernard Bataille
6.4 Tablet Production Systems 1053
Katharina M. Picker-Freyer
6.5 Controlled Release of Drugs from Tablet Coatings 1099
Sacide Alsoy Altinkaya
6.6 Tablet Compression 1133
Helton M. M. Santos and Joao J. M. S. Sousa
6.7 Effects of Grinding in Pharmaceutical Tablet Production 1165
Gavin Andrews, David Jones, Hui Zhai, Osama Abu Diak, and Gavin Walker
6.8 Oral Extended-Release Formulations 1191
Anette Larsson, Susanna Abrahmsén-Alami, and Anne Juppo
SECTION 7 ROLE OF NANOTECHNOLOGY 1223
7.1 Cyclodextrin-Based Nanomaterials in Pharmaceutical Field 1225
Erem Bilensoy and A. Attila Hincal
7.2 Nanotechnology in Pharmaceutical Manufacturing 1249
Yiguang Jin
7.3 Pharmaceutical Nanosystems: Manufacture, Characterization, and Safety 1289
D. F. Chowdhury
7.4 Oil-in-Water Nanosized Emulsions: Medical Applications 1327
Shunmugaperumal Tamilvanan
INDEX 1367
Pharmaceutical Manufacturing Handbook: Regulations and Quality
PREFACE xiii
SECTION 1 GOOD MANUFACTURING PRACTICES (GMP) AND OTHER FDA GUIDELINES 1
1.1 Good Manufacturing Practices (GMPs) and Related FDA Guidelines 3
James R. Harris
1.2 Enforcement of Current Good Manufacturing Practices 45
Kenneth J. Nolan
1.3 Scale-Up and Postapproval Changes (SUPAC) Regulations 67
Puneet Sharma, Srinivas Ganta, and Sanjay Garg
1.4 GMP-Compliant Propagation of Human Multipotent Mesenchymal Stromal Cells 97
Eva Rohde, Katharina Schallmoser, Christina Bartmann, Andreas Reinisch, and Dirk Strunk
SECTION 2 INTERNATIONAL REGULATIONS OF GOOD MANUFACTURING PRACTICES 117
2.1 National GMP Regulations and Codes and International GMP Guides and Guildelines: Correspondences and Differences 119
Marko Närhi and Katrina Nordström
SECTION 3 QUALITY 163
3.1 Analytical and Computational Methods and Examples for Designing and Controlling Total Quality Management Pharmaceutical Manufacturing Systems 165
Paul G. Ranky, Gregory N. Ranky, Richard G. Ranky, and Ashley John
3.2 Role of Quality Systems and Audits in Phatmaceutical Manufacturing Environment 201
Evan B. Siegel and James M. Barquest
3.3 Creating and Managing a Quality Management System 239
Edward R. Arling, Michelle E. Dowling, and Paul A. Frankel
3.4 Quality Process Improvement 287
Jyh-hone Wang
SECTION 4 PROCESS ANALYTICAL TECHNOLOGY (PAT) 311
4.1 Case for Process Analytical Technology: Regulatory and Industrial Perspectives 313
Robert P. Cogdill
4.2 Process Analytical Technology 353
Michel Ulmschneider and Yves Roggo
4.3 Chemical Imaging and Chemometrics: Useful Tools for Process Analytical Technology 411
Yves Roggo and Michel Ulmschneider
SECTION 5 PERSONNEL 433
5.1 Personnel Training in Pharmaceutical Manufacturing 435
David A. Gallup, Katherine V. Domenick, and Marge Gillis
SECTION 6 CONTAMINATION AND CONTAMINATION CONTROL 455
6.1 Origin of Contamination 457
Denise Bohrer
6.2 Quantitation of Markers for Gram-Negative and Gram-Positive Endotoxins in Work Environment and as Contaminants in Pharmaceutical Products Using Gas Chromatography–Tandem Mass Spectrometry 533
Alvin Fox
6.3 Microbiology of Nonsterile Pharmaceutical Manufacturing 543
Ranga Velagaleti
SECTION 7 DRUG STABILITY 557
7.1 Stability and Shelf Life of Pharmaceutical Products 559
Ranga Velagaleti
7.2 Drug Stability 583
Nazario D. Ramirez-Beltran, Harry Rodriguez, and L. Antonio Estévez
7.3 Effect of Packaging on Stability of Drugs and Drug Products 641
Emmanuel O. Akala
7.4 Pharmaceutical Product Stability 687
Andrew A. Webster
7.5 Alternative Accelerated Methods for Studying Drug Stability: Variable-Parameter Kinetics 701
Giuseppe Alibrandi
SECTION 8 VALIDATION 725
8.1 Analytical Method Validation: Principles and Practices 727
Chung Chow Chan
8.2 Analytical Method Validation and Quality Assurance 743
Isabel Taverniers, Erik Van Bockstaele, and Marc De Loose
8.3 Validation of Laboratory Instruments 791
Herman Lam
8.4 Pharmaceutical Manufacturing Validation Principles 811
E. B. Souto T. Vasconcelos D. C. Ferreira, and B. Sarmento
INDEX 839
See More
SHAYNE COX GAD, PhD, DABT, ATS, is the Principal of Gad Consulting Services. Dr. Gad has more than thirty years of experience as a toxicologist, statistical consultant, manager, and general consultant on research and development in the chemical, consumer product, contract testing, biotechnology, medical device, and pharmaceutical industries. He is the author of twenty-nine books and numerous papers, presentations, and other publications.
See More
More in this series