Textbook
Analytical Chemistry, 6th Edition
ISBN: 978-0-471-21472-4
848 pages
March 2003, ©2004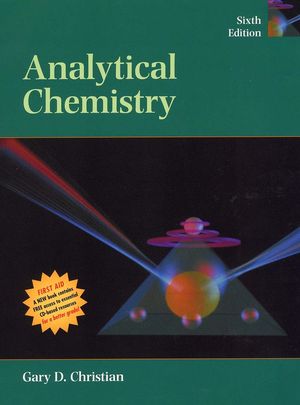 Extensively revised and updated with a more modern flavor and a new, two-color design, this sixth edition deals with principles and techniques of quantitative analysis. Examples of analytical techniques are drawn from such areas as life sciences, clinical chemistry, air and water pollution, and industrial analyses. New to this edition: Excel spreadsheets on CD-ROM * New chapters on good laboratory practice, as well as genomics and proteomics * A more modern flavor.
See More
Chapter 1. Analytical Objectives, or: What Analytical Chemists Do.
Chapter 2. Basic Tools and Operations of Analytical Chemistry.
Chapter 3. Data Handling and Spreadsheets in Analytical Chemistry.
Chapter 4. Good Laboratory Practice: Quality Assurance of Analytical Measurements.
Chapter 5. Stoichiometric Calculations: The Workhorse of the Analyst.
Chapter 6. General Concepts of Chemical Equilibrium.
Chapter 7. Acid–Base Equilibria.
Chapter 8. Acid–Base Titrations.
Chapter 9. Complexometric Reactions and Titrations.
Chapter 10. Gravimetric Analysis and Precipitation Equilibria.
Chapter 11. Precipitation Reactions and Titrations.
Chapter 12. Electrochemical Cells and Electrode Potentials.
Chapter 13. Potentiometric Electrodes and Potentiometry.
Chapter 14. Redox and Potentiometric Titrations.
Chapter 15. Voltammetry and Electrochemical Sensors.
Chapter 16. Spectrochemical Methods.
Chapter 17. Atomic Spectrometric Methods.
Chapter 18. Sample Preparation: Solvent and Solid-Phase Extraction.
Chapter 19. Chromatography: Principles and Theory.
Chapter 20. Gas Chromatography.
Chapter 21. Liquid Chromatography.
Chapter 22. Kinetic Methods of Analysis.
Chapter 23. Automation in Measurements.
Chapter 24. Clinical Chemistry.
Chapter 25. Century of the Gene—Genomics and Proteomics: DNA Sequencing and Protein Profiling.
Chapter 26. Environmental Sampling and Analysis.
Experiments.
Appendix A. Literature of Analytical Chemistry.
Appendix B. Review of Mathematical Operations Exponents, Logarithms, and the Quadratic Formula.
Appendix C. Tables of Constants.
Appendix D. Safety in the Laboratory.
Appendix E. Periodic Tables on the Web.
Appendix F. Answers to Even-Numbered Problems.
Index.
See More
Excel spreadsheets on CD-ROM aid the student in performing computations, statistical analysis, and graphing for applications such as titration curves and logarithm concentration diagrams.
A new chapter on good laboratory practice (quality assurance of analytical measurements) includes materials on dealing with governmental guidelines.
A new chapter on genomics and proteomics includes the key role of analytical chemistry in the Human Genome Project.
A more modern flavor includes coverage of spectral databases (Web-based and free), chromatography nomenclature, and simulation software.
See More
The topics to be covered in each chapter are listed in an introductory summary paragraph.
Dimensional analysis is emphasized throughout the text as an aid in problem solving.
The Problems and Recommended References are grouped by topic. There are 673 questions and problems.
Margin notes emphasize important concepts and are a tool for review.
See More
Students Resources
Wiley Student Companion Site
Coming Soon!
View Sample content below:
See More
See Less
Learn more about