Operational Profitability: Systematic Approaches for Continuous Improvement, 2nd Edition
ISBN: 978-0-471-21473-1
311 pages
March 2002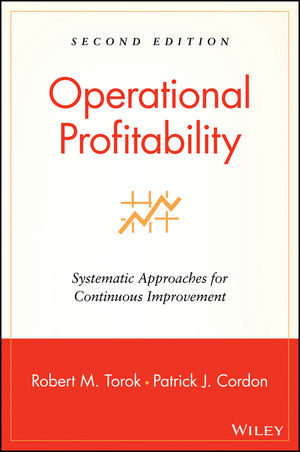 Add value to services and increase revenue while giving your clients more of what they need
Operational Profitability, Second Edition explains in complete detail how to conduct a management audit that will give clients the essential information they need in today's fiercely competitive marketplace. At the same time, it enables CPA firms and CEOs to expand their range of services, strengthen business relationships, and increase profits. This newly updated and revised Second Edition walks you through all the steps of a management audit and explains:
The basic techniques of the management audit, what it involves, how to set it up, and how to establish a clear set of organizational goals
How to rethink and rebuild an organization from the bottom up
How to use a full range of analytical tools for identifying problem areas throughout the company
How to assess the way a firm manages inventory, purchasing, production planning, and operations
How to evaluate and reduce operating costs
Praise for the First Edition of Operational Profitability...
"A great operating manual for general managers and vice presidents . . . A complete how-to program."
—William Hoban, CEO, Green Bay Drop Forge, Green Bay, Wisconsin
"The most complete profitability program I've seen. The examples and checklists are excellent. It has saved my clients millions."
—Chuck Wadowski, CEO, TMQ Consultants, Detroit, Michigan
"[An] outstanding reference source for the modern manager; very impressive."
—Arnold Bradburd, CEO, Interstate Steel Company, Philadelphia, Pennsylvania
"[Operational Profitability] provides valuable data on operational efficiency and additional service opportunity beyond the usual audit . . . [It] provides the basis of helpful recommendations [and] provides much useful reading guidance for the performance of a management audit."
—Alexander A. H. Bohtling, CPA, CPA Journal
See More
Preface.

The Basic Approach.

A History of American Business and the Impact on Profitability.

The Effectiveness of Systems and the Efficiency of Business Operations.

Case in Point Using the Business Assessment.

Profitability in Today's Market.

Types of Financial Statements.

Performance Measures.

Pricing Policies.

Operations.

Operations Efficiency Measures.

Reducing Operating Costs.

Inventory Controls.

Production Planning and Control.

Appendix A: Process Improvement Flow Diagrams.

Appendix B: Business Analysis.

Index.
See More
ROBERT M. TOROK, CPA, is Vice President of the accounting firm of Zalick, Torok, Kirgesner, Cook & Co. in Cleveland, Ohio.
PATRICK J. CORDON is President of The Patrick J. Cordon Company in Berea, Ohio.
See More