Improv Yourself: Business Spontaneity at the Speed of Thought
ISBN: 978-0-471-21638-4
207 pages
November 2002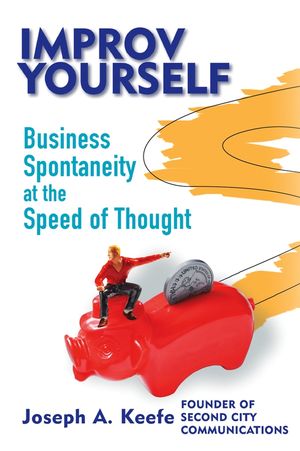 Discover your improvisational skills for a more productive, more dynamic work life
Whether we know it or not, most of us use our improvisational skills every day in the workplace when we deal with clients and colleagues. Improv Yourself shows the reader in clear detail how to use and hone improvisational skills for better business interactions and a more productive work environment. Business expert and all-around funny guy Joe Keefe offers expert guidance on nurturing our improvisational skills to help us think on our feet, deal with customers, interact with team members, present new ideas, and brainstorm. Full of humor, wit, and expert business insight, Improv Yourself is like nothing else on the business shelf (could you tell I just made that up?).
See More
Acknowledgments.

Foreword.

Introduction.

Everyone Improvises--They Just Don't Always Know It.

What (the Heck) Is Improvisation (Anyway)?

Things You Need to Know to Start Improv-ing.

Initiation/Addition/Agreement/Acceptance/Exploration.

Spontaneity and Responsiveness.

Improv 101.

Discovery versus Invention.

The Value of Failure.

Practical Applications and Actual Case Histories.

More Improvercises.

Managing the Emperors.

The Case for Comedy.

Improvisation in Presentations.

Managing Change.

Conclusion.

Suggested Readings.

Index.
See More
JOSEPH A. KEEFE is the founder and Guy in Charge of Humor Resources, the premier supplier of improvisational applications for the business world. He was formerly executive producer and founder of Second City Communications, a subsidiary of the world-renowned Second City Theaters. He is also a successful business consultant whose clients include Motorola, Kraft, and IBM.

www.humor-resources.com
See More