The Power of Apology: Healing Steps to Transform All Your Relationships
ISBN: 978-0-471-21892-0
272 pages
August 2002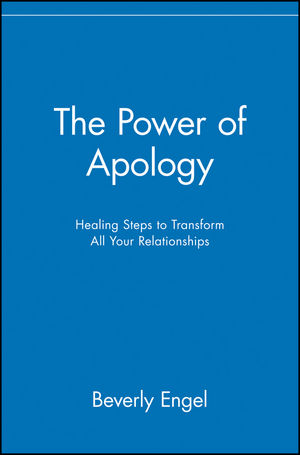 "Fresh and useful . . . excellent practical advice . . . thorough and lucid . . . will be welcomed by many who have struggled to ask forgiveness and to forgive."
-Publishers Weekly

A finalist in the Books for a Better Life Awards competition!

Discover the healing power of apology and put its magic to work in your life

Do you have a difficult time apologizing or are you involved with someone who does?
Do you tend to overapologize and appear weak in others' eyes?
Do you want to reconcile with someone but feel they owe you an apology first?
Do you need to apologize or make amends to someone but don't know how to go about it?

In this inspiring book from internationally acclaimed therapist and self-improvement author Beverly Engel, you will learn why some people have difficulty apologizing while others tend to overapologize. You'll learn how to give a meaningful apology, how to ask for one, and how to receive one. From making amends with those you have hurt to dealing with someone who refuses to apologize to teaching children responsibility and empathy, this life-changing book shows you how to bring a healing new element of renewal into every relationship in your life.

"Beverly Engel has eloquently explained the power of apology in a remarkably insightful and perceptive manner. No one has been better able to explain what an apology means and its role in reconciliation."
-Rabbi Charles A. Klein, author of How to Forgive When You Can't Forget: Healing Our Personal Relationships

"Readers of this wise and lucid guide to the neglected art of authentic apology will acquire a powerful tool to help repair relationships with others and with themselves."
-Jeanne Safer, Ph.D., author of Forgiving and Not Forgiving: A New Approach to Resolving Intimate Betrayal

"An engaging and in-depth book on a subject that has rarely been addressed so intelligently and thoroughly. Ms. Engel offers the reader specific suggestions that can help you improve all your relationships."
-Steven Farmer, M.F.T., author of Adult Children of Abusive Parents
See More
Acknowledgments.

Introduction.

PART ONE: THE POWER OF APOLOGY.

Chapter 1. Apology Is for Everyone.

Chapter 2. Why Learning to Give, Receive, and Ask for Apologies Is So Important.

Chapter 3. Why Apologizing Is Difficult for Some and Too Easy for Others.

PART TWO: LEARN HOW TO GIVE A MEANINGFUL APOLOGY.

Chapter 4. The Right and Wrong Way to Apologize.

PART THREE: LEARN HOW TO RECEIVE AND ACCEPT APOLOGIES.

Chapter 5. Opening the Door with Empathy.

Chapter 6. Overcoming the Seven Obstacles to Forgiveness.

Chapter 7. There Is a Time to Forgive--and a Time to Forget About Forgiving.

PART FOUR: LEARN HOW TO ASK FOR AN APOLOGY.

Chapter 8. Silince Isn't Always Golden.

PART FIVE: TRANSFORM ALL YOUR RELATIONSHIPS THROUGH APOLOGY.

Chapter 9. Healing Your Relationship with Yourself.

Chapter 10. Healing Your Past, Step 1: Make Your Apology List.

Chapter 11. Healing Your Past, Step 2: Make Amends.

Chapter 12. Healing Your Family When There Has Been an Estrangement.

Chapter 13. Healing Your Marriage or Romantic Relationship.

Chapter 14. Teach Your Children Well.

Chapter 15. Healing Your Business Relationships Through Respect and Compassion.

Chapter 16. Conclusion: The Apology Movement.

Appendix: Two Ideas to Consider: Apology Circles and Restorative Justice.

References.

Recommended Reading.

Index.
See More
BEVERLY ENGEL has been a psychotherapist for over twenty-five years. A recognized expert in the fields of relationships, women's issues, and abuse, she is the author of fourteen books, including Loving Him Without Losing You and The Emotionally Abusive Relationship (both from Wiley). Engel has been featured on Oprah, CNN, Ricki Lake, Sally Jessy Raphael, and other nationally syndicated programs.
See More