When Cells Die II: A Comprehensive Evaluation of Apoptosis and Programmed Cell Death
ISBN: 978-0-471-21947-7
572 pages
December 2003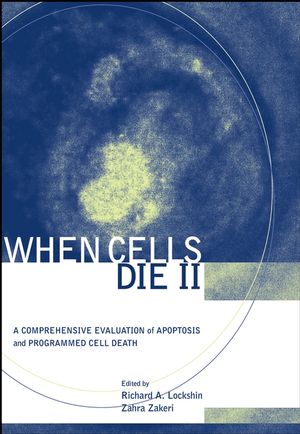 Cell death is fast becoming one of the most dynamic areas of biological research-involving as it does the study of apoptosis and programmed cell death and the role these phenomena play in development and homeostasis on the one hand, and aging and disease on the other. The profound implications for medicine and agriculture from the manipulation of these processes have spawned a deluge of research papers, articles, approaches, and methods-making it difficult for scientists to get an overview of the field.
When Cells Die II: A Comprehensive Evaluation of Apoptosis and Programmed Cell Death offers the most thorough, cutting-edge coverage of this field since publication of the acclaimed first edition. Leading international researchers present an up-to-date yet accessible survey ranging from the history of cell death science to its modern methodology. Extensively revised to include major advances in research, this new edition features relevant discussion of:
* The impact of genomics and proteomics
* Gene therapy and pharmacogenetics
* The role of mitochondria
* Caspase-independent and non-apoptotic cell death
* Evolution of mechanisms
With the manipulation of programmed cell death in clinical situations now in the foreseeable future, When Cells Die II also addresses the role of apoptosis in specific organ systems-the immune system, nervous system, and gastrointestinal tract-as well as different disease states, including viral infection, cancer, and myocardial infarct.
Expertly edited to provide detailed cross-referencing, consistency of style, and a logical progression of topics, When Cells Die II is the definitive resource for understanding current cell death science. It will prove an invaluable text for advanced undergraduate, graduate, and medical students, postdoctoral fellows, scientists, and clinicians in cell biology, immunology, developmental biology, neuroscience, and cancer research.
See More
Contributors.
Preface.
SECTION I: CELL DEATH ORIGIN AND PROGRESSION.
1. Introduction (R. Lockshin & Z. Zakeri).
SECTION II: BIOLOGICAL ROLE OF CELL DEATH IN DEVELOPMENT AND HOMEOSTASIS.
2. Cell Death: Shaping an Embryo (Z. Zakeri & R. Lockshin).
3. Cell Death in Dictyostelium: Assessing a Genetic Approach (J. Levraud, et al.).
4. Programmed Cell Death in Drosophila Melanogaster (L. Dorstyn & S. Kumar).
5. Cell Death in Plant Development and Defense (R. Mittler & A. Cheung).
6. Regulation of Apoptosis by Extracellular Matrix during Postembryonic Development in Xenopus Laevis (A. Ishizuya-Oka, et al.).
7. Apoptosis in the Immune System (A. Brás, et al.).
8. Cell Death in Neuronal Development and Maintenance (A. Tolkovsky, et al.).
9. Cell Turnover: Intestines and Other Tissues (J. Wilson & C. Potten).
10. Cell Death, Aging Phenotypes, and Models of Premature Aging (H. Warner).
SECTION III: HOW CELL DEATH IS CARRIED OUT.
11. Survival Factors (D. Vaux).
12. Caspase-Independent and Autophagic Programmed Cell Death (W. Bursch, et al.).
13. The Recognition and Engulfment of Apoptotic Cells by Phagocytes (R. Birge).
14. Cell Cycle Genes: pRb and p53 (N. Sang & A. Giordano).
15. Mitochondria and Oxidation in the Regulation of the Cell Death (J. Robertson, et al.).
SECTION IV: DEREGULATION OF CELL DEATH IN DISEASE AND FUTURE INTERVENTION.
16. The Use of Proteomics to Identify and Characterize Cell Death Proteins (X. Saelens, et al.).
17. Cell Death in Viral Infections (Y. Chen, et al.).
18. Cell Death in Cancer and Cancer Therapy (S. Fulda & K. Debatin).
19. The Role of Apoptosis in Myocardial Infrarction and Heart Failure (K. Mani, et al.). 
 Index.
See More
"...thoughtfully edited and readable. The book illustrates the importance of apoptosis in development, homeostasis, and human disease...an important contribution to the literature." (
Doody's Book Review Service
)
"…thoroughly researched, highly readable, and informative." (E-STREAMS, March 2005)
See More
Buy Both and Save 25%!
When Cells Die II: A Comprehensive Evaluation of Apoptosis and Programmed Cell Death (US $180.95)
-and- Signal Transduction and Human Disease (US $205.95)
Total List Price: US $386.90
Discounted Price: US $290.17 (Save: US $96.73)
Cannot be combined with any other offers. Learn more.