E-book
Exchange Traded Funds
ISBN: 978-0-471-22513-3
304 pages
April 2002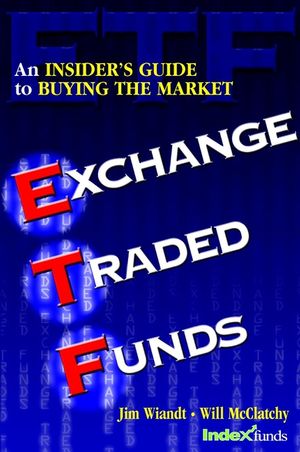 Exchange traded funds, one of the most exciting new classes of funds, provide investors with an opportunity to get the benefits of individual stocks at the lower costs associated with mutual funds. Although they are a very new type of fund (they were first introduced in 1993), ETFs have nearly 100 billion in assets under management. Written by senior editors Jim Wiandt and Will McClatchy at IndexFunds.com, Exchange Traded Funds clearly explains this exciting class of funds for savvy individual investors and investment professionals alike. The authors provide a frank appraisal of the advantages of exchange traded funds including low management fees and lower capital gains taxes. They acquaint readers with the full range of what's available, and provide valuable information on evaluating the funds' usefulness and performance. They also describe proven strategies for using exchange traded funds to balance investment portfolios and manage long-term and short-term risk. IndexFunds.com is a Web site devoted to index funds. It currently hosts more than 100,000 visitors each month.
See More
Foreword.

Preface.

Acknowledgments.

Chapter One: The Best of Both Worlds.

Chapter Two: Comparing EFTs to Traditional Mutual Funds.

Annual Management Fees and Expenses.

Visible Transaction Fees Paid by the Investor.

Hidden Transaction Fees Paid by the Investor.

Visible Fund Transaction Costs.

Hidden Fund Costs.

Dividend Drag.

Phantom NAV Discounts.

Continuous Pricing.

Tax Consequences.

ETFs vs. Index Futures and Closed-End Funds.

Conclusion.

Chapter Three: ETFs for the Buy-and-Hold Investor.

Beyond the Numbers.

Diversifying with International and Small Company ETFs.

Avoiding Duplication and Betting on Sectors.

Advanced Features for the Average Investor.

Chapter Four: Institutional Investors Favor ETFs.

Equitization Ensures Liquidity.

Two Allocations for ETFs.

Managing Style Drift.

Why Institutions Use ETFs.

Trading Methods Vary.

Institutional Involvement in the ETF Creation and Redemption Process.

ETFs Present an Ever-changing Landscape.

Strategic Use of ETFs By Financial Advisors.

ETFs Serve a Purpose.

Chapter Five: Internal Workings of ETFs.

Birth of an ETF.

Someone is Minding the Store.

Mutual Fund Operations.

ETFs Turn the World Upside Down>.

Three Types of ETFs.

Chapter Six: The History of ETFs.

Outlook for the Future.

Chapter Seven: International ETFs.

Why Use International ETFs? A Brief History of International ETFs.

Why New ETFs Are Born.

Your Results May Vary.

Benefits and Risks of the Arbitrage Factor.

Watch All the Costs.

The Question of Currency.

How to Evaluate International ETFs.

What's Next for International ETFs?

Chapter Eight: Day Trading With ETFs.

A Short History of Day Trading.

Retail Traders.

Role of ETFs in Day Trading.

Tools of the Trade.

The Art of Execution.

Institutional Hedge Funds-A Brief Review.

Chapter Nine: Advanced Topics.

How ETFs Manage a Tax-Efficiency Edge over Traditional Mutual Funds.

Premiums and Discounts.

Examining ETF Liquidity.

Premiums and Discounts For International and Lightly-Traded ETFs.

Trading Costs.

Regulatory and Tax Complications.

Optimization and Tracking Issues.

Market Makers-What IS an AP?

How Specialists and Market Makers Price and Trade ETFs.

Appendix A: ETF Assets 1993-2000.

Appendix B: ETF Share Volume 1993-2000.

Appendix C: ETFs Trading on U.S. Markets.

Broad-Based Domestic ETFs (Including Size and Style-Based ETFs).

Sector-Based Domestic ETFs.

International ETFs Trading on U.S. Markets.

HOLDRs.

Appendix D: ETFs Trading on International Markets.

Index.
See More
Indexfunds.com is a Web site devoted to index funds. The site currently has nearly one million site page views each month with a growth rate of 10 percent monthly. The site has an e-mail newsletter, which circulates to some 7,000 people.
JIM WIANDT is the publisher of Indexfunds.com.
WILL McCLATCHY is a cofounder of Indexfunds.com.
See More