Divorce and Domestic Relations Litigation: Financial Adviser's Guide
ISBN: 978-0-471-22525-6
264 pages
March 2003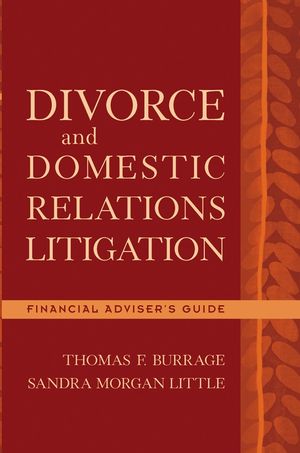 Divorce and Domestic Relations Litigation represents the accountant's body of knowledge on divorce and domestic relations and how it relates to the divorce process, alimony, child support, and property. At once a reference tool and a training guide for firms entering this specialization, this book provides the financial professional with a single source of information regarding the financial impact, the practical course, and the underlying theories that impact domestic relations.
See More
Preface.
1. THE FINANCIAL ADVISER'S IMPACT ON DIVORCE LITIGATION.
Nature and Administration of the Practice.
State of Law.
Initial Meetings with Counsel or the Client.
Child Support.
Property Issues.
Tracing of Assets.
Division of Property.
Other Issues.
2. THE FINANCIAL ADVISER'S ROLE IN DIVORCE LITIGATION.
The Financial Adviser's Role.
The Divorce Process.
Trials.
Neutral Roles.
3. THE DETERMINATION AND TAXATION OF DIVORCE PROPERTY DIVISIONS.
Property Theory and Issues.
Family-Limited Partnerships.
Taxation of Property Transfers.
Redemption of Stock in a Closely Held Corporation.
4. THE VALUATION OF BUSINESSES IN DIVORCE LITIGATION.
Business Valuation.
Standards.
Valuation Methodologies.
Analysis of the Business.
Control versus Minority Interests and Other Discounts and Premiums.
Determination of Value.
5. THE VALUATION AND DIVISION OF RETIREMENT PLANS IN DIVORCE LITIGATION.
Retirement Plans.
Types of Qualified Plans.
Governmental Plans.
Individual Retirement Accounts, Simplified Employee Pensions, and SIMPLE Plans.
Transfer of Retirement Assets.
Nonqualified Plans.
6. THE TAXATION AND DETERMINATION OF SUPPORT IN DIVORCE LITIGATION.
Child Support.
Spousal Support.
Types of Spousal Support.
Tax Treatment of Spousal Support.
Recapture of Spousal Support.
Spousal Support Treated as Child Support.
Spousal Support Substituted for Property Awards.
Allocation between Child Support and Spousal Support.
7. THE DIFFERENCES OF PROPERTY AND INCOME IN DIVORCE LITIGATION AND ISSUES OF THE MARITAL RESIDENCES.
Property or Income.
Marital Residence.
8. TAX ISSUES IN DIVORCE LITIGATION.
Income Tax.
Innocent Spouse Relief.
Expanded Innocent Spouse Relief.
Separate Liability Election.
Equitable Relief.
Miscellaneous Tax Issues.
Tax Attributes in Divorce.
9. THE FINANCIAL ADVISER'S TESTIMONY.
Testimony.
Preparation for Trial.
Direct Examination.
Cross-Examination.
Redirect Examination.
Recross Examination.
The Decision.
Index.
See More
THOMAS F. BURRAGE, CPA/ABV, CVA, DABFA, is principal in charge of litigation and valuation services at Meyers & Company, LLC, a certified public accounting and consulting firm. His other books on divorce and divorce-related issues include PPC's Guide to Divorce Taxation and Tax Planning for High Income Individuals.
SANDRA MORGAN LITTLE, JD, is shareholder in Little, Gilman-Tepper Velasquez, PA, specializing in divorce and family law. A high-profile conference speaker and the former president of the American Bar Association's family law section, she has written numerous articles in professional journals and is the author of Child Custody and Visitation: Law and Practice.
See More