Essentials of Cost Management
ISBN: 978-0-471-22734-2
271 pages
October 2002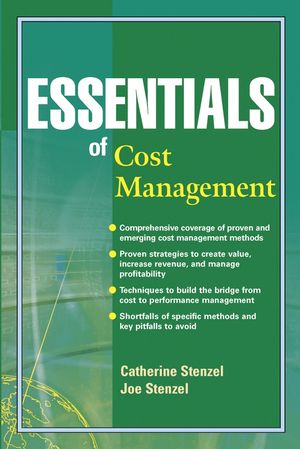 An accessible, practical survey of cost management methods
Essentials of Cost Management provides an unbiased survey and explanation of the cost management approaches and methods currently available for immediate application in day-to-day activities. Rather than advocate a particular method, this book assists readers in choosing the best approach or blend of cost management strategies to address specific business problems. The expert authors also discuss cutting-edge topics such as target costing, capacity management, and activity-based costing/management.
See More
Preface: Cost and Value.

1 Cost Management: Control and Profitability.

2 Traditional Cost Types, Terms, and Practices.

3 Cost Accounting Structures: Standards, Budgets, and Controls.

4 Operational Resource Accounting.

5 Process and Resource-Based Cost Management.

6 Tactical Management of Costs and Resources.

7 Strategy-Based Systems and the Future of Cost Management.

Suggested Readings.

Index.
See More
CATHERINE and JOE STENZEL are Coeditors of the Journal of Cost Management, an RIA bimonthly periodical. Catherine Stenzel is also curriculum developer and a national instructor for the Institute of Management Accountants where she and Joe codevelop seminars and organize conferences. The Stenzels live in Minneapolis, Minnesota.
See More