Pharmacogenomics: Social, Ethical, and Clinical Dimensions
ISBN: 978-0-471-22769-4
368 pages
January 2003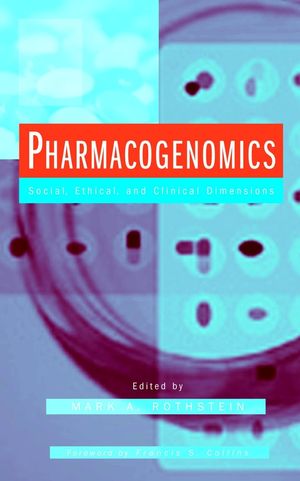 Through analyses of the complex underlying issues, this interdisciplinary volume frames the agenda for dealing with genetic variation and incorporating pharmacogenomics into health care. The three sections of this book, Research Issues, Clinical Issues, and Social Perspectives  address key elements integral to a comprehensive discussion of this emerging field.
This groundbreaking text…
Examines new research strategies, methodologies, and ethical and social considerations of pharmacogenomics
Addresses practical considerations of anticipated changes in education, training, oversight, guidelines and protocols, and continuing education requirements
Provides analyses of the potential enormous impact of pharmacogenomics, such as in the standard of care and treatment, including perspectives from the fields of anthropology, law, ethics, and economics
See More
Foreword (F. Collins).
Preface.
PART I: INTRODUCTION: SCIENCE AND SOCIETY.
Public Attitudes About Pharmacogenomics (M. Rothstein, et al.).
Pharmacogenomics:  Pharmacology and Toxicology in the Genomics (H. Mohrenweiser).
The Implications of Population Genetics for Pharmacogenomics (C. Hanis).
PART II: RESEARCH AND DEVELOPMENT CHALLENGES AND CONSIDERATIONS.
Genome Research and Minorities (H. Greely).
Drug Development Strategies (P. Manasco & T. Arledge).
Drug Development,  Regulation, and Genetically Guided Therapy Pharmacogenomics (D. Feigal & S. Gutman).
Intellectual Property and Commercial Aspects of Pharmacogenomics (A. Nunnally,  et al.).
PART III: CLINICAL APPLICATIONS.
Integration of Pharmacogenomics into Medical Practice (G. Omenn & A. Motulsky).
Clinical Utility Pharmacogenetics and Pharmacogenomics (N. Holtzman).
Medical Liability for Pharmacogenomics (L. Palmer).
The Challenges of Pharmacogenomics for Pharmacy Education, Practice, and Regulation  (D. Brushwood).
PART IV: THE SOCIAL DIMENSION.
Economic Implications of Pharmacogenomics (C. Reeder & W. Dickson). 
 Pharmacogenomics and the Social Construction of Identity (M. Foster).
Pharmacogenomics: Considerations for Communities of Color (L. Nsiah-Jefferson).
Constitutional Issues in the Use of Pharmacogenomic Variations Associated with Race (J. Robertson).
PART V: EPILOGUE: POLICY PRESCRIPTIONS (M. Rothstein).
Pharmacogenomics and Minority Populations: General Population Survey Questionnaire (M. Rothstein).
Index.
See More
"The discussion of societal, legal, economic, and governmental issues go well beyond the sphere of pharmogenomics." (
American Journal for Medical Genetics
, September 1, 2005)
"...indispensable guide...as timely as it can be...an impressive multidisciplinary analysis...a 'must read'..." (Bioethics, Vol 18(4), August 2004)
"…Pharmacogenomics is highly recommended for anyone with an interest in the field…. Given this book's uniqueness…libraries at any institution teaching pharmcogenomics should have a copy of this book." (Journal of Pharmacy Technology, Sept/Oct 2003)
"...well written, clear, and informative...a restrained sense of excitement...permeates throughout...clearly...a solid contribution to the discourse." (Nature Biotechnology, May 1, 2003)
"...chapters offer fascinating glimpses into fields that may not be familiar to geneticists, genomicists, or clinicians...they will be informative...and provide a reminder that many people outside this field are going to be paying a lot of attention as discoveries...are reported." (New England Journal of Medicine, July 24, 2003)
"...an excellent summary of aspects of phamacogenomics...a solid reference for those working in the field and a unique textbook for those new to the subject area." (Clinical Chemistry, Vol. 49, No. 9)
"...a welcome addition to the growing body of literature...highly recommended for anyone with an interest in the field...should be required reading for anyone conducting pharmacogenomic research and for all clinicians who use pharmacogenomics..." (Journal of Pharmacy Technology, Vol. 19September/October 2003)
"...addresses the ethical, legal, and social implications of the individualized medicine that pharmacogenomics stands to create..." (Genetic Engineering News, Vol 23(14), 2003)
"This volume presents the ethical, legal and social issues as they interface with pharmacogenomics in a very readable and accessible manner...this is an incredibly valuable guide by thought-leaders in the field."
--Edward R. B. McCabe, M.D., Ph.D., David Geffen School of Medicine at UCLA, Los Angeles, California
See More