Linear Time-Invariant Systems
ISBN: 978-0-471-23145-5
384 pages
November 2002, Wiley-IEEE Press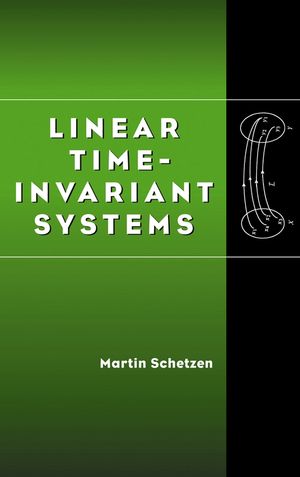 A new and practical approach to understanding system theory The modern development of engineering and science requires a deep understanding of the basic concepts of system theory. Approaching the subject from a system, rather than an application-oriented perspective, world-renowned system expert Martin Schetzen provides practicing engineers and scientists, as well as students, with a solid, clearly explained foundation in the fundamentals of linear time-invariant (continuous) system theory.

Developing linear systems from a functional viewpoint, the book is noteworthy for its presentation of:


The time-domain theory of continuous time linear time-invariant (LTI) systems
System transfer function, gain, and phase-shift
An original development of the Fourier transform, the unilateral and bilateral Laplace transforms, and their inverses from a system theory viewpoint
Basic filter analysis and design techniques from the s-plane viewpoint
Feedback systems and their stability, interconnected systems, and block diagram reduction
The state-variable approach to system analysis and its advantages for certain problems

Taking an original, highly useful approach to system theory, Linear Time-Invariant Systems lays a solid foundation for further study of system modeling, control theory, filter theory, discrete system theory, state-variable theory, and other subjects requiring a system viewpoint.

An Instructor's Manual presenting detailed solutions to all the problems in the book is available upon request from the Wiley Makerting Department.
See More
Preface.
General System Concepts.
Linear Time-Invariant (LTI) Systems.
Properties of LTI Systems.
The Frequency Domain Viewpoint.
The Fourier Transform.
The Bilateral Laplace Transform.
The Inverse Bilateral Laplace transform.
Laplace Transform Analysis of the System Output.
S-Plane View of Gain and Phase Shift.
Interconnection of Systems.
Appendix A. A Primer on Complex Numbers and Complex Algebra.
Appendix B. Energy Distribution in Transient Functions.
See More
MARTIN SCHETZEN is a professor of electrical engineering at Northeastern University. He did his undergraduate work at New York University and received his Masters and ScD degrees from Massachusetts Institute of Technology. As a faculty member at M.I.T., he taught and did research in communication theory and nonlinear system theory. During his tenure at Northeastern University, he has developed a sequence of courses on linear and nonlinear system theory and also wrote the text The Volterra & Wiener Theories of Nonlinear Systems (Wiley), which includes many of his original contributions to nonlinear theory. He also consults for corporations and the U.S. government as a world expert in system theory. Among the many achievements in his long and distinguished career was his development of a new theory for the spectrum of airborne Doppler radar return that was used to land the first astronauts on the moon and for which he received the Apollo Achievement Award and the Apollo Certificate of Achievement.
See More
An Instructor's Manual presenting detailed solutions to all the problems in the book is available upon request from the Wiley Makerting Department.
See More
Instructors Resources
Wiley Instructor Companion Site
Coming Soon!
View Sample content below:
See More
See Less
Students Resources
Wiley Student Companion Site
Coming Soon!
View Sample content below:
See More
See Less
Learn more about