Textbook
Strategic Management: Of Resources And Relationships, Concepts
ISBN: 978-0-471-23246-9
416 pages
September 2002, ©2003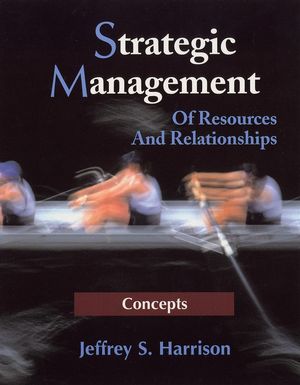 From internal resources such as people, knowledge, and capital to relationships with external stakeholders such as customers and suppliers - Strategic Management of Resources and Relationships provides students with one realistic, comprehensive, and highly effective approach to strategic management.
Students will learn how to use the resource-based view to develop competitive advantages through the acquisition, development and management of resources. They'll also learn how to use stakeholder theory to determine when firms should form partnerships, the form they should take, and how to manage them to enhance their resource position. The text's unique blend of the resource-based approach with stakeholder theory and other relevant theories and models, helps students gain a complete, balanced understanding of the field.
See More
Preface.

About the Author.

PART 1: ANALYSIS OF THE COMPETITIVE SITUATION.

Chapter 1. Strategic Management.

Chapter 2. The Environment and External Stakeholders.

Chapter 3. Organizational Resources and Competitive Advantage.

PART 2: STRATEGY FORMULATION.

Chapter 4. Strategic Direction.

Chapter 5. Strategy Formulation at The Business-Unit Level.

Chapter 6. Strategies for Entrepreneurship and Innovation.

Chapter 7. Corporate-Level Strategy and Restructuring.

PART 3: STRATEGY IMPLEMENTATION AND CONTROL.

Chapter 8. Strategy Implementation: Resources and Relationships.

Chapter 9. Strategy Implementation: Design and Control.

Chapter 10. Global Strategic Management and The Future.

Glossary.

Name Index.

Company Index.

Subject Index.
See More
International flavor. Many examples of global strategic management are included in the text material, as well as special boxed examples in every chapter. Global strategic management theory is woven into many of the chapters and included in a separate international chapter.
Section on strategic thinking. The text takes emphasizes that strategic thinking is an essential, creative aspect of the strategy process.
Chapter on entrepreneurship and innovation. The entrepreneurship chapter contains elements of both starting a business (such as what a business plan contains) and entrepreneurship within existing organizations (organizational entrepreneurship).
Innovative and comprehensive treatment of implementation and control. The text treats implementation from the perspective of managing internal processes as well as external relationships. A fully integrated strategic control model, which is a major innovation in the text, pulls the whole implementation process together.
A Concepts text in a Manageable Size. Principles and theories of strategic management in ten concise chapters.  The smaller size of the book allows instructors to use more cases, simulations, exercises or readings.
Diverse Set of Cases Available. Thirty-three cases are available via Wiley's Business Extra Select.  They are excellent mix of large-, small-, and medium-sized companies from many types of industries, including high-tech, manufacturing, and services. Many of the cases are global in their focus or contain global elements. 
See More