Where the Money Grows and Anatomy of the Bubble
ISBN: 978-0-471-23898-0
95 pages
February 1998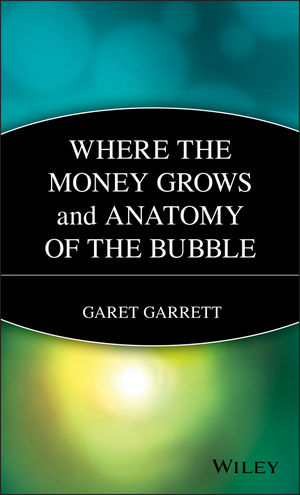 Hugely popular when it was first published in 1911, and regarded as a classic ever since, Where the Money Grows is an honest, humorous, and richly perceptive tour of Wall Street and its enduring customs, institutions, and characters. The Street, according to author Garet Garrett, is a world populated not only by bulls and bears, but also by "wolves," "hoodoos," and "invisibles." You'll meet them all in this immensely entertaining and revealing book.
Also included is a scintillating article, "Anatomy of the Bubble," originally published in the Saturday Evening Post. In piercing prose, Garrett unmasks the "debt" bubble and displays uncanny prescience. Debt, it would seem, can be every bit as dangerous as manias and other "irrational exuberance.
See More
Foreword vii
Where the Money Grows 1
Before the Opening 3
1 The Hall of Delusions 5
2 Wall Street Habits 10
3 The Hoodoo 15
4 A Bank President 20
5 The Manipulator 25
6 The Way of a Client 30
7 The Trader 35
8 The Invisibles 40
9 A Real Inside View 45
10 The Wall Street Wolf 50
11 Taking Trouble Home 55
Anatomy of the Bubble 61
See More
GARET GARRETT is the pseudonym of Edward Peter Garrett, a well-known financial writer and editor who worked for the Wall Street Journal, the New York Times, and the Saturday Evening Post, among other publications. Known for his witty and insightful writing on financial issues, Garrett was the author of 18 books, of which Where the Money Grows is considered the most popular and successful.
See More