Catalysis by Di- and Polynuclear Metal Cluster Complexes
ISBN: 978-0-471-23930-7
533 pages
March 1998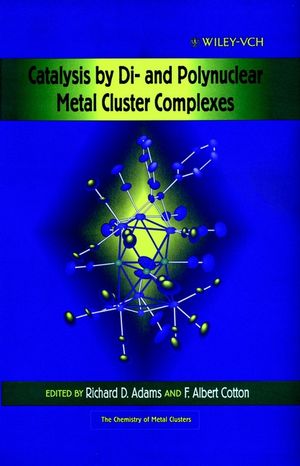 A pioneer work on catalysis of organic chemical reactions involving multinuclear metal complexes.

Catalysis by Di- and Polynuclear Metal Cluster Complexes surveys the latest developments at the frontier of this exciting field, combining theory with new and original examples of catalytic processes produced by polynuclear metal complexes. An invaluable resource for inorganic and organometallic chemists in industry and R&D, it contains chapters from world experts and scholars on:
* Concepts and models for characterizing homogeneous reactions catalyzed by transition metal cluster complexes
* Activation of ruthenium clusters for use in catalysis
* Catalysis by mixed metal clusters containing gold phosphine groupings
* Catalysis by sulfido bridged dimolybdenum complexes
* Dimolybdenum and ditungsten complexes
* Synthesis of organic compounds catalyzed by transition metal clusters
* Catalysis with dirhodium (II) complexes
* Catalytic synthesis of polythioether macrocycles
* Catalysis of Rh, Rh-Co, and Ir-Co multinuclear complexes and its applications to organic syntheses
* Bimetallic hydroformylation catalysis
* Catalysis by colloids
* Catalysis with palladium clusters
* Heterometallic clusters for heterogeneous catalysis
* Supported clusters in catalysis.
See More
Concepts and Models for Characterizing Homogeneous Reactions Catalyzed by Transition Metal Cluster Complexes (E. Rosenberg & R. Laine).

Activation of Ruthenium Clusters for Use in Catalysis: Approaches and Problems (G. Lavigne & B. de Bonneval).

Catalysis by Mixed-Metal Clusters Containing Gold Phosphine Groupings (L. Pignolet).

Catalysis by Sulfido Bridged Dimolybdenum Complexes (M. DuBois).

Catalytic Applications of Dimolybdenum and Ditungsten Complexes Containing Multiple Metal-Metal Bond (M. McCann).

Synthesis of Organic Compounds Catalyzed by Transition Metal Clusters (G. Siiss-Fink & M. Jahncke) Catalysis with Dirhodium (II) Complexes (M. Doyle).

Catalytic Macrocyclization of Thietanes by Metal Carbonyl Cluster Complexes (R. Adams).

Catalysis of Rh,Rh-Co, and Ir-Co Multinuclear Complexes and Its Applications to Organic Syntheses (I. Ojima & Z. Li).

Bimetallic Homogeneous Hydroformylation (G. Stanley).

Catalysis by Colloids (L. Lewis).

Catalysis with Palladium Clusters (I. Moiseev & M. Vargaftik).

Heterometallic Clusters for Heterogeneous Catalysis (P. Braunstein & J. Rose).

Metal Cluster Catalysis Catalysts Dispersed on Solid Supports (B. Gates).

Index.
See More
RICHARD D. ADAMS, PhD, is Professor of Chemistry at the University of South Carolina. F. ALBERT COTTON, PhD, is Professor of Chemistry at Texas A&M University.
See More
Buy Both and Save 25%!
Catalysis by Di- and Polynuclear Metal Cluster Complexes (US $288.00)
-and- Synthesis of Inorganic Materials (US $95.00)
Total List Price: US $383.00
Discounted Price: US $287.25 (Save: US $95.75)
Cannot be combined with any other offers. Learn more.