Weigh Less, Live Longer: Dr. Lou Aronne's "Getting Healthy" Plan for Permanent Weight Control
ISBN: 978-0-471-23948-2
304 pages
December 1997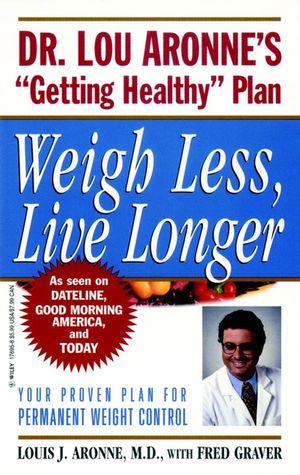 Let Dr. Lou Aronne help you achieve your goal of a longer, more vital life. His easy-to-follow diet and exercise plan shows you how to reach your healthiest possible weight based on your lifestyle, heredity, and metabolism. Discover the exact number of calories you need to lose weight, look great, feel more energetic, and be at the peak of health. Make your dream of permanent weight control a life-saving reality!

Complete menu plans for healthful meals
* Easy, appetizing recipes
* Plans for managing stress
* Fat and calorie-burning exercises.


"If you want to weigh less and live longer, this is the book to have." --robin leach

"Next to having Dr. Lou Aronne as your personal physician, Weigh Less, Live Longer is the best option for weight loss and good health." --erica jong.

"Dr. Lou Aronne succeeded in helping me and many notable friends to lose weight and live more healthful lives. Not only do I look and feel better, he made it easy!" --preston robert tisch, co-chairman of the board and co-Chief executive officer, loews corporation.

"Dr. Aronne is, without question, a fine doctor, a wonderful man, and always generous with tongue depressors." --david letterman.
See More
Introduction 1
Part One The Science of Weight Control
Chapter 1 Introducing the Getting Healthy Approach 9
Chapter 2 Understanding Your Body 21
Chapter 3 The Link between Weight and Health 37
Part Two Getting the Support You Need
Chapter 4 The Emotional Challenges 47
Chapter 5 A Helping Hand 55
Part Three The Nuts and Bolts of Dieting
Chapter 6 Learning Good Food Habits 73
Chapter 7 Keeping a Weight Control Journal 91
Chapter 8 Structuring Your Diet 107
Chapter 9 Getting Started 119
Chapter 10 Weight Control for a Lifetime 129
Part Four Two Menu Plans That Work
Chapter 11 Menu Plan I: The Low-Fat, High Carbohydrate Approach 137
Chapter 12 Menu Plan II: The Lower Glycemic Index Approach 169
Chapter 13 Recipes for the Getting Healthy Plan 199
Chapter 14 Adding Variety to Your Diet 225
Part Five The Exercise Program
Chapter 15 Basic Exercise Principles 235
Chapter 16 Designing Your Own Exercise Program 247
A Final Word 273
Resources 277
Index 283
See More
Louis J. Aronne, M.D., is Director of the Comprehensive Weight Control Center in New York City. He serves as Clinical Associate Professor of Medicine at Cornell University Medical College and is a member of the Laboratory of Human Behavior and Metabolism. Dr. Aronne appears regularly on the TV Food Network and is the host of Sapient Health Network's "Winning at Weight Control" site on the World Wide Web at aronne.shn.net. Dr. Aronne's home page can be found at www.aronne.com.
See More