Psychological Perspectives on Human Sexuality
ISBN: 978-0-471-24405-9
696 pages
December 1999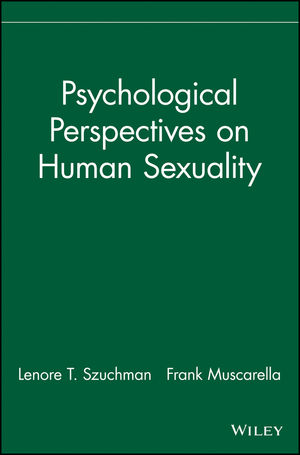 A comprehensive and thoroughly up-to-date examination of the most important topics in human sexuality.

Psychological Perspectives on Human Sexuality offers a comprehensive and much-needed empirical examination of human sexuality. It is the first book in the field to speak to the needs of both the social scientist and the mental health professional. This important work also provides a complete scientific survey of the latest research along with guidance for its application to clinical practice.

Researchers, clinicians, and students alike will value this collection of critical reviews covering a broad range of contemporary scientific inquiry into human sexuality. The book encapsulates the state of the art in research in such new subjects as genital surgery on children and Internet sex, as well as the most current approaches to such traditional topics as sexual orientation and gender/transgender issues. You ll also find in-depth coverage of such topics as:
* Male and Female Sexuality
* Sexual Fantasy and Erotica/Pornography
* Disabled Sexual Partners
* Older Adult Sexuality
* HIV/AIDS and Sexuality
* Paraphilias
* The Aftermath of Child Sexual Abuse
* Rape and Sexual Aggression
* Therapists Sexual Misconduct
See More
BACKGROUND.

Research in Human Sexuality (D. Wagstaff, et al.).

Male Sexuality (W. Everaerd, et al.).

Female Sexuality (W. Everaerd, et al.).

CORE ISSUES.

Issues of Transgender (S. Cole, et al.).

Sexual Orientation (A. Ellis & R. Mitchell).

Love Relationships (P. Regan).

Sexual Fantasy and Erotica/Pornography: Internal and External Imagery (D. Byrne & J. Osland).

DESEXUALIZED GROUPS.

Disabled Sexual Partners (L. Mona & P. Sandor Gardos).

Older Adult Sexuality (J. Kellett).

ISSUES OF CULTURAL CONCERN.

HIV/AIDS and Sexuality (M. Ross & L. Schonnesson).

Adolescent Sexuality (R. Paikoff, et al.).

Genital Surgery on Children below the Age of Consent (H. Lightfoot-Klein, et al.).

Paraphilias (J. Feierman & L. Feierman).

Sexuality and the Internet: The Next Sexual Revolution (A. Cooper, et al.).

SEXUAL VICTIMIZATION.

The Aftermath of Child Sexual Abuse: The Treatment of Complex Posttraumatic Stress Reactions (C. Courtois).

Rape and Sexual Aggression (K. Calhoun & A. Wilson).

Therapists' Sexual Feelings and Behaviors: Research, Trends, and Quandaries (K. Pope).

Indexes.
See More
LENORE T. SZUCHMAN, PhD, and FRANK MUSCARELLA, PhD, are both on the psychology faculty of Barry University in Miami Shores, Florida, where they teach graduate and undergraduate courses in human sexuality. Dr. Szuchman is an experimental psychologist whose research is in the field of adult development and aging. She has also published books on professional writing in the social sciences. Dr. Muscarella is a clinical psychologist with research interests in human sexuality and evolutionary psychology. He has published theoretical works on the evolution of homoerotic behavior in humans.
See More