Textbook
Learning and Memory: An Integrated Approach, 2nd Edition
ISBN: 978-0-471-24925-2
512 pages
November 1999, ©2000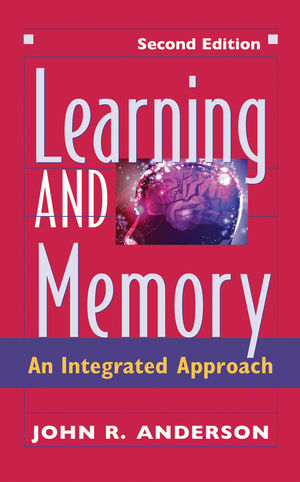 This text bridges the gap between animal learning and human behavior. Designed for junior, senior and first year graduate level core courses in Learning and Memory, the text reflects the author's firm belief that one field cannot be adequately studied without also studying the other. By examining the current state of traditional learning and cognitive fields, the text identifies exciting opportunities for a combination of ideas.
See More
Perspectives on Learning and Memory.
Classical Conditioning.
Instrumental Conditioning.
Reinforcement and Learning.
Transient Memories.
Acquisition of Memories.
Retention of Memories.
Retrieval of Memories.
Skill Acquisition.
Inductive Learning.
Applications to Education
Glossary.
Bibliography.
Photo Credits.
Indexes.
See More
Increased emphasis on the biological basis of learning reflects the increasing interest in cognitive psychology in the adaptive function of human memory.
More material detailing the effects of emotion on learning.
Expanded coverage of neuropsychological material draws from the current state of research in the fields of learning and memory.
See More
Complete integration of animal learning and human behavior.
Increased emphasis on the biological basis of learning. This emphasis makes the issues of learning more concrete.
Discusses applications to education by bringing out practical consequences (Chapter 11).
Uses anecdotal examples from author's lab to illustrate key concepts, providing an accessible context which aids students' understanding.
See More