Textbook
Food Preparation for the Professional, 3rd Edition
ISBN: 978-0-471-25187-3
576 pages
November 1999, ©2000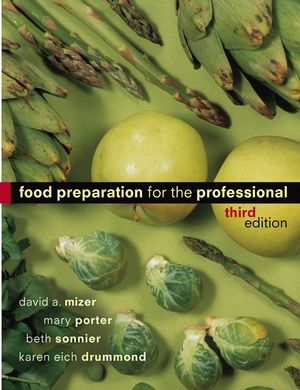 Completely revised and updated? the definitive text on food preparation for the foodservice manager.
A comprehensive working knowledge of the principles, skills, and techniques necessary to prepare food for production is as critical for the aspiring foodservice manager as it is for the culinary arts student. Food Preparation for the Professional, Third Edition, targets the needs of career-oriented students who aim to manage the back of the house rather than prepare food on the line. Covering all the basics?cooking methods, food preparation, safety and sanitation, storage and handling, equipment, and menu planning?as well as addressing contemporary cuisine preferences and dietary trends, the book provides managers with the skills needed to run an efficient kitchen successfully in any type of foodservice operation. Fully revised and updated, the new edition of this classic text now includes:
Troubleshooting information boxes that identify common problems, their causes, and solutions
A nutritional analysis of each recipe and nutrient profiles
New sections covering the emerging interest in grains, pasta, legumes, and vegetables
With its singular focus on food preparation for foodservice managers, this latest edition of Food Preparation for the Professional continues to be an indispensable tool for this rapidly growing area in the hospitality industry.
See More
The Kitchen.

Sanitation and Safety.

Prepreparation.

Cooking, Equipment, and Measurement.

Menus, Nutrition, and Recipes.

Building Flavor, Body, and Texture.

Soups.

Sauces.

Vegetables, Grains, and Pasta.

Meat Cookery.

Poultry Cookery.

Fish and Shellfish Cookery.

Breakfast, Beverages, and Dairy Products.

Pantry Production.

Hors D'Oeuvres and Food Presentation.

The Bakeshop.

Desserts.

Glossary.

Bibliography.

Indexes.
See More
David A. Mizer is Director of Purchasing for Carnival Cruise Lines and active in various professional associations in the food and beverage industry.

Mary Porter has co-authored several books for Wiley, including The Bar and Beverage Book, Second Edition and Supervision in the Hospitality Industry, Third Edition.

Beth Sonnier is Director and Chef-Professor at the Food and Hospitality Institute at El Centro College in Dallas, Texas.

Karen Eich Drummond has authored and co-authored numerous books, including Nutrition for the Foodservice Professional, Third Edition; Supervision in the Hospitality Industry, Third Edition; and the Restaurant Training Manual, all by Wiley.
See More