Textbook
Bioinstrumentation
ISBN: 978-0-471-26327-2
400 pages
August 2003, ©2004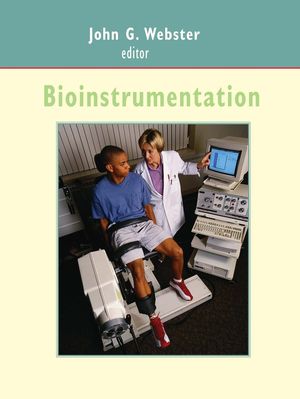 From one of the most widely known editors in biomedical engineering comes a new title describing measurement methods in medicine and biology. While many books on medical instrumentation cover only hospital instrumentation, this book also encompasses measurements in the growing fields of molecular biology, cellular biology, and tissue engineering. Webster's approach introduces students to measurements, covers the necessary electronics, and then builds from small to big/ measurements on molecules, cells, organs, and the body. Each chapter includes homework problems and references for further study. Extensive laboratory instructions, examination and quiz questions, and PowerPoint slides of figures are contained on the web site.
See More
Preface.
1. Measurement Systems (Kevin Hugo).
2. Basic Concepts of Electronics (Hong Cao).
3. Analysis of Molecules in Clinical Medicine (Mat Klein).
4. Surface Characterization in Biomaterials and Tissue Engineering (Jorge E. Monzon).
5. Hematology (Susanne Clark Cazzanti).
6. Cellular Measurements in Biomaterials and Tissue Engineering (Jeffrey S. Schowalter).
7. Nervous Systems (Jang-Zern Tsai).
8. Heart and Circulation (Supan Tungjitkusolmun).
9. Lung, Kidney, Bone, and Skin (Shilpa Sawale).
10. Body Temperature, Heat, Fat, and Movement (Chao-Min Wu).
Index.
See More
John G. Webster is Professor of Biomedical Engineering at the University of Wisconsin—Madison. He is the editor of one of the most widely used text in biomedical engineering: Medical Instrumentation: Application and Design, Third Edition (Wiley). In addition, he has developed 18 other books, including the Encyclopedia of Medical Devices and Instrumentation (Wiley), and about 150 research papers. He is the recipient of the 2001 IEEE-EMBS Career Achievement Award.
See More
Bioinstrumentation is the first text to include measurements in new fields such as cellular biology, molecular biology, and nanotechnology.
A chapter on electronics allows instructors the option of not requiring a separate text.
Statistical coverage prepares students for determining trial size.
Coverage of microscopy limits the quantity of supplementary notes required to sufficiently discuss topics such as tissue engineering.
See More
Instructors Resources
Contact your Wiley Representative
Find Your Rep

See More
See Less