E-book
DSL: A Wiley Tech Brief
ISBN: 978-0-471-26710-2
224 pages
November 2002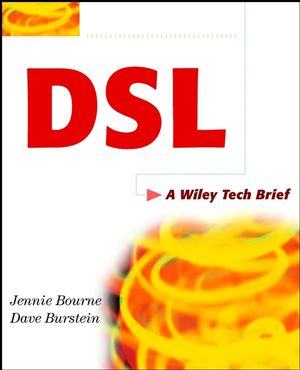 Top-notch advice on adopting DSL
DSL is exploding, with fifteen million fast Internet connections in 2001 and probably forty million more by 2003. The editors of DSL Prime, the weekly "industry bible," brief you on exactly what you need to know to put the technology to use. The book moves rapidly from the basics of the equipment through security, applications, and network management. With the authority of the industry's key periodical, Bourne and Burstein provide candid evaluations of the providers and manufacturers and offer technical managers a no-nonsense guide to make sound strategic decisions on DSL, reduce costs, and ensure a system that will run reliably and smoothly.
Wiley Tech Briefs
Focused on the needs of the corporate IT and business manager, the Tech Briefs series provides in-depth information on a new or emerging technology, solutions, and vendor offerings available in the marketplace. With their accessible approach, these books will help you get quickly up-to-speed on a topic so that you can effectively compete, grow, and better serve your customers.
See More
Acknowledgments.

Introduction.

DSL.

Choosing a DSL Provider.

The Equipment that Makes DSL Work.

Technology.

Security: You Need It.

Troubleshooting.

Voice over DSL.

Fast enough to Watch.

Enterprise.

Small Office Home Office Telecommuters.

The Future.

Index.
See More
JENNIE BOURNE is the editor of Fast Net News, Web site editor for DSL Prime, and adjunct professor at Rutgers University. Formerly an associate editor at Newsweek and senior editor at Essence, she now focuses her reporting on DSL.
DAVE BURSTEIN is the editor of DSL Prime, the major weekly news source for the DSL industry. For the past eighteen years, Mr. Burstein has been the cohost of The Personal Computer Show (voted three times "Best Radio Show" by The Computer Press Association).
See More