E-book
Not-for-Profit Accounting Made Easy
ISBN: 978-0-471-27163-5
256 pages
February 2003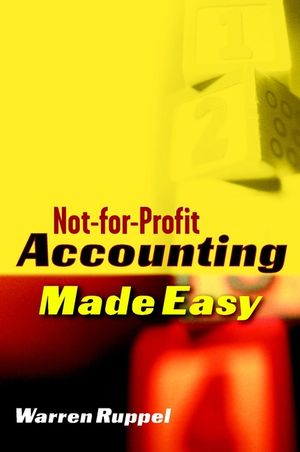 A practical, introductory guide to the fundamentals of not-for-profit accounting

Not-for-Profit Accounting Made Easy focuses on accounting fundamentals for those who run financial and accounting operations in not-for-profit organizations but do not have a professional understanding of accounting principles and financial reporting. It explains complex accounting rules in terms nonaccountants can easily understand in order to help them better fulfill their managerial and fiduciary duties. Always practical and never overtechnical, this helpful guide conforms to FASB and AICPA standards and:
* Shows how to read and understand a not-for-profit financial statement
* Explains financial accounting and reporting standards
* Helps managers and other nonaccountants become conversant in the rules and principles of accounting
* Updates board members, executive directors, and other senior managers on the accounting basics they should know for day-to-day operations
* Features tables, exhibits, and charts that illustrate the content in a simple and easy-to-understand manner


Suitable for fundraising managers and executives-as well as anyone who needs to read and understand a not-for-profit financial statement-this is the ultimate not-an-accountant's guide to not-for-profit accounting.
See More
Preface.
Chapter 1: Understanding the Basics of Not-for-Profit Accounting.
Chapter 2: Basic Financial Statements of a Not-for-Profit Organization.
Chapter 3: Accounting for Contributions.
Chapter 4: Accounting for Investments and Financial Instruments.
Chapter 5: Accounting for Activities with Joint Costs and Indirect Cost Allocation.
Chapter 6: Affiliated Organizations.
Chapter 7: Collections.
Chapter 8: Split-Interest Agreements.
Chapter 9: Accounting for Pension and Other Postretirement Employee Benefit Plans.
Chapter 10: Lease Accounting Fundamentals.
Chapter 11: Analyzing the Financial Health of Not-for-Profit Organizations.
Chapter 12: Current Developments in Not-for-Profit GAAP.
Index.
See More
WARREN RUPPEL, CPA, began his career at KPMG Peat Marwick in 1979 and joined Deloitte & Touche in 1989 to specialize in not-for-profit organizations and audits of governments. Mr. Ruppel has since served as the chief financial officer of an international not-for-profit organization and is currently the Assistant Comptroller responsible for accounting and financial reporting for New York City. He is the author of many successful Wiley GAAP guides as well as other titles.
See More