Handbook of Child Psychology, Volume 3, Social, Emotional, and Personality Development, 6th Edition
ISBN: 978-0-471-27290-8
1152 pages
March 2006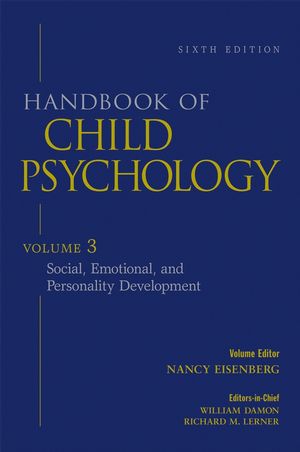 Part of the authoritative four-volume reference that spans the entire field of child development and has set the standard against which all other scholarly references are compared. Updated and revised to reflect the new developments in the field, the
Handbook of Child Psychology, Sixth Edition
contains new chapters on such topics as spirituality, social understanding, and non-verbal communication.
Volume 3: Social, Emotional, and Personality Development, edited by Nancy Eisenberg, Arizona State University, covers mechanisms of socialization and personality development, including parent/child relationships, peer relationships, emotional development, gender role acquisition, pro-social and anti-social development, motivation, achievement, social cognition, and moral reasoning, plus a new chapter on adolescent development.
See More
1. Introduction (Nancy Eisenberg).
2. The Development of the Person: Social Understanding, Relationships, Conscience, Self (Rosa A. Thompson).
3. Temperament (Mary K. Rothbart and John E. Bates).
4. Biology, Culture, and Temperamental Biases (Jerome Kagan and Nathan A. Fox).
5. Emotional Development: Action, Communication, and Understanding (Carolyn Saarni, Joseph J. Campos, Linda A. Camras and David Witherington).
6. Personality Development (Avshalom Caspi and Rebecca L. Shiner).
7. Socialization Processes (Daphne Blunt Bugental and Joan E. Grusec).
8. Socialization in the Family: Etnnic and Ecological Perspectives (Ross D. Parke and Raymond Buriel).
9. The Self (Susan Harter).
10. Peer Interactions, Relationships, and Groups (Kenneth H. Rubin, William M. Bulkowski, and Jeffrey G. Parker).
11. Prosocial Development (Nany Eisenberg, Richard A. Fabes, and Tracy L. Spinrad).
12. Aggression and Antisocial Behavior in Youth (Kenneth A. Dodge, John D. Coie, and Donald Lynam).
13. The Development of Morality (Elliot Turiel).
14. Gender Development (Diane N. Ruble, Carol Lynn Martin, and Sheri A. Berebaum).
15. Development of Achievement Motivation (Allan Wigfield, Jacquelynne S. Eccles, Ulrich Schiefele, Robert W. Rosser, and Pamela Davis-Kean).
16. Adolescent Development in Interpersonal Context (W. Andrew Collins and Laurence Steinberg).
Author Index.
Subject Index.
See More
Volume Editor,  
Nancy Eisenberg, 
 Department of Psychology, Arizona State University
Editors-in-Chief
Dr. Damon is a senior fellow at the Hoover Institute, the director of the Stanford Center on Adolescence, and a professor of education at Stanford University.  He has written several books, many book chapters, and numerous articles on child development and adolescence and is editor-in-chief of New Directions for Child and Adolescent Development (Jossey-Bass).
Dr. Lerner is Bergstrom Chair in Applied Developmental Science at the Eliot-Pearson Department at Tufts University.  He is the author of many publications, including the Handbook of Psychology, Volume 6, Developmental Psychology, and Pathways to Positive Development about Diverse Youth, New Directions for Youth Development:  Theory, Practice, and Research (Jossey-Bass).  Dr Lerner is also a past editor of the Journal of Research on Adolescence.
See More