E-book
Strategic Six Sigma: Best Practices from the Executive Suite
ISBN: 978-0-471-27313-4
310 pages
December 2002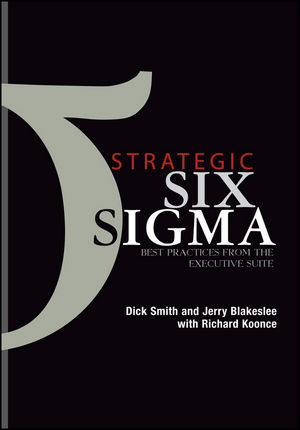 Real executives talk about how Six Sigma changed their organizations for the better
Backed by the real-world experience of executives who successfully implemented Six Sigma, this book shows how this powerful, data-driven quality improvement methodology can improve the learning cycle and financial and corporate reporting, as well as strategic planning, customer demand issues, and more. Case studies and interviews provide real-life best practices that make the implementation process that much easier for managers. The authors are Six Sigma experts affiliated with PricewaterhouseCoopers and here present an innovative examination of this powerful and popular methodology.
See More
Acknowledgments.

Introduction: From Factory Floor to Executive Suite: The Emergence of Strategic Six Sigma as a Business and Leadership Imperative.

Chapter 1 Strategic Six Sigma: Current and Emerging Applications.

Chapter 2 Rocky Road or Trajectory of Transformation? What Makes Strategic Six Sigma Efforts Successful?

Chapter 3 Develop a Committed Team of Leaders to Drive Strategic Six Sigma Initiatives.

Chapter 4 Incorporate Strategic Six Sigma Thinking and Best Practices into Your Company's Strategy Planning and Deployment Process.

Chapter 5 Be in Touch with Customers and the Marketplace.

Chapter 6 Build a Business Process Framework to Sustain Strategic Six Sigma Efforts.

Chapter 7 Demand Quantifiable Results.

Chapter 8 Develop Incentives and Create Accountability.

Chapter 9 Success with Strategic Six Sigma Projects Requires Full-Time,Well-Trained Six Sigma Leaders.

Chapter 10 Why Training Is Critical to Making Strategic Six Sigma Initiatives Work.

Chapter 11 Sustaining Gains with Strategic Six Sigma over Time.

Afterword: Some Parting Thoughts.

Notes.

Credits.

Bibliography and Recommended Reading.

About the Authors.

Index.
See More
DICK SMITH is the Partner-in-Charge of the Center of Excellence for Six Sigma Services at PwC Consulting. He is a well-known speaker on the topics of business strategy, organizational change, and Six Sigma deployment.

JERRY BLAKESLEE is a Global Partner at the Center of Excellence for Six Sigma Services and a primary architect of PwC Consulting's global Strategic Six Sigma approach.

RICHARD KOONCE is a writer, interviewer, business consultant, and a well-known expert on job and workplace trends.
See More