E-book
J.K. Lasser's New Rules for Small Business Taxes
ISBN: 978-0-471-27342-4
496 pages
October 2002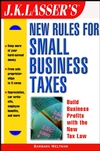 STOP PAYING MORE TAXES ON YOUR BUSINESS-TODAY!

Small businesses are big news. They are profitable, flexible, and productive. But come tax time, most small business owners are at a loss. Let small business and tax expert Barbara Weltman help you maximize your deductions and minimize your payments with J.K. Lasser's New Rules for Small Business Taxes.

With the new tax law in effect, many favorable tax changes have been made for small business owners-but unless you're a tax expert, you might not realize all the ways a small business can benefit from both new and current tax laws. J.K. Lasser's New Rules for Small Business Taxes gives you a complete overview of small business tax planning in an accessible and friendly manner. Focusing on strategies that help you use deductions, business income, and other aspects of your small business to save during tax time, this comprehensive guide is all you need to keep up with Uncle Sam. The invaluable advice and guidance in this book will show you how your actions in business today can affect your bottom line from a tax perspective tomorrow.

In this volume, you'll find:
* Detailed coverage of new tax laws and IRS rules
* A complete rundown of available business expenses
* Comprehensive information on each deductible expense, including dollar limits and record-keeping requirements
* Clear instructions on where to report income and claim deductions on your tax forms
* Sample forms and helpful checklists that will keep you organized during tax time
* Planning strategies that can help you run a tax-smart business all year long-and avoid problems with the IRS


J.K. Lasser-Practical Guides for All Your Financial Needs

Please visit our Web site at www.jklasser.com
See More
Preface.
Introduction.
PART 1: ORGANIZATION.
1. Business Organization.
2. Tax Year and Accounting Methods.
3. Recordkeeping for Business Income and Deductions.
PART 2: BUSINESS INCOME AND LOSSES.
4. Income or Loss from Business Operations.
5. Capital Gains and Losses.
6. Gains and Losses from Sales of Business Property.
PART 3: BUSINESS DEDUCTIONS AND CREDITS.
7. Employee Compensation: Salary, Wages, and Employee Benefits.
8. Travel and Entertainment Expenses.
9. Car Expenses.
10. Repairs and Maintenance.
11. Bad Debts.
12. Rents.
13. Taxes and Interest.
14. Depreciation, Amortization, and Depletion.
15. Advertising Expenses.
16. Retirement Plans.
17. Casualty and Theft Losses.
18. Home Office Deductions.
19. Medical Coverage
20. Deductions for Farmers.
21. Miscellaneous Business Deductions.
22. Deductions for Alternative Minimum Tax.
23. Roundup of Tax Credits.
PART 4: TAX PLANNING FOR YOUR SMALL BUSINESS.
24. Income and Deduction Strategies.
25. Online Filing and Information.
Index.
See More
BARBARA WELTMAN, an attorney, is a nationally recognized expert in taxation for small businesses. She has written extensively on tax, finance, and estate planning. Weltman is the author of J.K. Lasser's Finance and Tax for Your Family Business, Your Parent's Financial Security, and J.K. Lasser's Online Taxes, all from Wiley. She is quoted regularly in major publications, including the New York Times and Boardroom, Inc. Newsletters, and is also featured on CNN and CNBC. Visit the author at www.bwideas.com.
See More