Adolescent Psychotherapy Homework Planner II
ISBN: 978-0-471-27493-3
352 pages
September 2003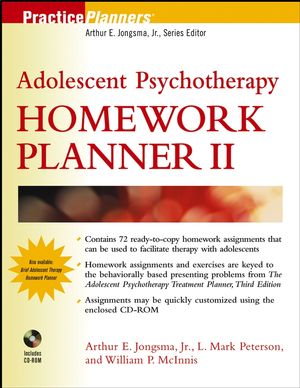 Help your adolescent clients develop the skills they need to work through their problems
The
Adolescent Psychotherapy Homework Planner II
provides you with an array of ready-to-use, between-session assignments designed to fit virtually every therapeutic mode.
This easy-to-use sourcebook features:
72 ready-to-copy exercises covering the most common issues encountered by adolescent clients
A quick-reference format-the interactive assignments are grouped by behavioral problem, such as anger management, blended family conflicts, low self-esteem, chemical dependence, eating disorders, sexual acting out, adoption issues, and more
Assignments that are cross-referenced to The Adolescent Psychotherapy Treatment Planner, Third Edition—so you can quickly identify the right exercise for a given situation or behavioral problem
A CD-ROM that contains all the exercises in a word-processing format—allowing you to customize them to suit you and your clients' unique styles and needs
See More
Practice
Planners®
Series Preface.
Introduction.
SECTION I—Academic Underachievement.
Exercise I.A: Attitudes about Homework.
Exercise I.B: Identify Steps to Improve School Performance.
SECTION II—Adoption.
Exercise II.A: Beginning a Search for Birth Parents.
Exercise II.B: Considering a Search for Birth Parents.
Exercise II.C: My Child's Search for Birth Parents.
SECTION III—Anger Management.
Exercise III.A: Anger Checklist.
Exercise III.B: Recognize the Early Signs of Anger.
SECTION IV—Anxiety.
Exercise IV.A: Tools for Anxiety.
Exercise IV.B: What Makes Me Anxious.
SECTION V—Attention-Deficit/Hyperactivity Disorder (ADHD).
Exercise V.A: Channel Your Energy in a Positive Direction.
Exercise V.B: Evaluating Medication Effects.
Exercise V.C: Frustrating Symptoms of ADHD.
SECTION VI—Autism/Pervasive Developmental Disorder.
Exercise VI.A: Moving toward Independence.
Exercise VI.B: Progress: Past, Present, and Future.
SECTION VII—Blended Family.
Exercise VII.A: Assessing the Fami ly-Present and Future.
Exercise VII.B: Interaction as a Family.
SECTION VIII—Chemical Dependence.
Exercise VIII.A: Saying Goodbye to My Drug.
Exercise VIII.B: The Many Changes Necessary for Recovery.
Section IX—Conduct Disorder/Delinquency.
Exercise IX.A: Catch Your Teen Being Responsible.
Exercise IX.B: How My Behavior Hurts Others.
Exercise IX.C: Letter to Absent or Uninvolved Parent.
Section X—Depression.
Exercise X.A: Home, School, and Community Activities I Enjoyed.
Exercise X.B: Overcoming Helplessness and Hopelessness.
Section XI—Divorce Reaction.
Exercise XI.A: Impact of Parents' Separation/Divorce.
Exercise XI.B: My Thoughts, Feelings, and Beliefs about Divorce.
Exercise XI.C: Stop the Fighting.
Section XII—Eating Disorder.
Exercise XII.A: Body Image.
Exercise XII.B: Plan and Eat a Meal.
Section XIII—Grief/Loss Unresolved.
Exercise XIII.A: Honoring the Anniversary of the Loss.
Exercise XIII.B: Memorial Collage.
Exercise XIII.C: Moving Closer to Resolution.
Section XIV—Low Self-Esteem.
Exercise XIV.A: Maintaining Your Self-Esteem.
Exercise XIV.B: Recognizing Your Abilities, Traits, and Accomplishments.
Section XV—Mania/Hypomania.
Exercise XV.A: Medication Resistance.
Exercise XV.B: Mood Disorders Symptom List.
Section XVI—Medical Condition.
Exercise XVI.A: Attitudes about Medication or Medical Treatment.
Exercise XVI.B: Coping with Your Illness.
Section XVII—Mental Retardation.
Exercise XVII.A: Hopes and Dreams for Your Child.
Exercise XVII.B: Supportive Services for Your Child.
Section XVIII—Negative Peer Influences.
Exercise XVIII.A: Reasons for Negative Peer Group Involvement.
Exercise XVIII.B: Resist Negative Peer Group Influences.
Section XIX—Oppositional Defiant Disorder.
Exercise XIX.A: Changing School Rules.
Exercise XIX.B: Cooperative Activity.
Section XX—Parenting.
Exercise XX.A: Parenting Report Card.
Exercise XX.B: Parents Understand the Roots of Their Parenting Methods.
Section XXI—Peer/Sibling Conflict.
Exercise XXI.A: How Parents Respond to Sibling Rivalry.
Exercise XXI.B: Why I Fight with My Peers.
Section XXII—Physical/Emotional Abuse Victim.
Exercise XXII.A: Identify the Nature of the Abuse.
Exercise XXII.B: Self-Esteem Before, During, and After Abuse.
Section XXIII—Posttraumatic Stress Disorder (PTSD).
Exercise XXIII.A: Describe Your PTSD Symptoms.
Exercise XXIII.B: Describe the Trauma and Your Feelings.
Section XXIV—Psychoticism.
Exercise XXIV.A: Describe Your Hallucinations.
Exercise XXIV.B: My Irrational Thoughts.
Section XXV—Runaway.
Exercise XXV.A: Another Place to Live.
Exercise XXV.B: Describe Life on the Run.
Section XXVI—School Violence.
Exercise XXVI.A: Plan and Evaluate a Family Activity.
Exercise XXVI.B: Reasons for Rage.
Section XXVII—Sexual Abuse Perpetrator.
Exercise XXVII.A: Celebrity Style Interview.
Exercise XXVII.B: Evaluating My Treatment Progress.
Section XXVIII—Sexual Abuse Victim.
Exercise XXVIII.A: Denial within the Family.
Exercise XXVIII.B: Negative Effects of the Abuse.
Exercise XXVIII.C: Perpetrator Apology to the Victim.
Section XXIX—Sexual Acting Out.
Exercise XXIX.A: Pros and Cons of Having Sex.
Exercise XXIX.B: Relationship between Sex and Emotional Needs.
Section XXX—Sexual Identity Confusion.
Exercise XXX.A: Disclosing Homosexual Orientation.
Exercise XXX.B: Which Gender Attracts You?
Section XXXI—Social Phobia/Shyness.
Exercise XXXI.A: Develop Conversational Skills.
Exercise XXXI.B: Observe Positive Social Behaviors.
Section XXXII—Specific Phobia.
Exercise XXXII.A: Finding a Strategy to Minimize My Fear.
Exercise XXXII.B: Parent's Response to Child's Phobia.
Section XXXIII—Suicidal Ideation.
Exercise XXXIII.A: Painful Effects of Suicide.
Exercise XXXIII.B: Past and Present Hurt-Hope for the Future.
Appendix: Alternate Assignments for Presenting Problems.
About the CD-ROM.
See More
ARTHUR E. JONGSMA, Jr., PhD, is Series Editor for the bestselling PracticePlanners®. He is also the founder and Director of Psychological Consultants, a group private practice in Grand Rapids, Michigan.
L. MARK PETERSON, ACSW, is Program Manager for Bethany Christian Service's Residential Treatment and Family Counseling programs in Grand Rapids, Michigan. He is coauthor of the bestselling book, The Complete Adult Psychotherapy Treatment Planner.
WILLIAM P. McINNIS, PsyD, is in private practice with Psychological Consultants in Grand Rapids, Michigan, and is the coauthor of The Child Psychotherapy Treatment Planner, Second Edition.
See More