Advances in Photochemistry, Volume 24
ISBN: 978-0-471-28273-0
372 pages
August 1998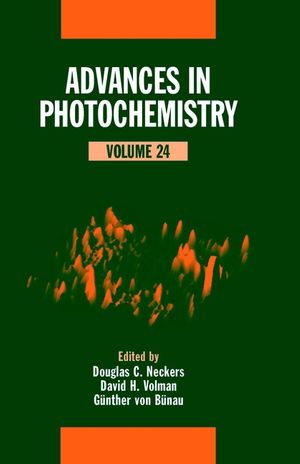 Setting the pace for progress and innovation . . .

"There is no doubt that these are 'hot and exciting' research areas . . . [Advances in Photochemistry] could easily serve as a definitive source of background information for future researchers." --Journal of the American Chemical Society

"For any library wishing to maintain a first-rate reference series on the photochemical literature. --Physics Today

More than a simple survey of the current literature, Advances in Photochemistry offers critical evaluations written by internationally recognized experts. These pioneering scientists offer unique and varied points of view of the existing data. Their articles are challenging as well as provocative and are intended to stimulate discussion, promote further research, and encourage new developments in the field.

In this volume

Optical Single-Molecule Detection at Room Temperature

ALFRED J. MEIXNER

Pressure-Tuning Photochemistry of Metal Complexes in Solution

RUDI VAN ELDIK AND PETER C. FORD

Photo-Induced and Spontaneous Proton Tunneling in Molecular Solids

H. PETER TROMMSDORFF

The EPR-Spectroscopic D Parameter of Localized Triplet Diradicals as Probe for Electronic Effects in Benzyl-Type Monoradicals

WALDEMAR ADAM, HEINRICH M. HARRER, FUMIO KITA, AND WERNER M. NAU

Photothermal Studies of Photophysical and Photochemical Processes by the Transient Grating Method

MASAHIDE TERAZIMA
See More
Optical Single-Molecule Detection at Room Temperature (A. Meixner).

Pressure-Tuning Photochemistry of Metal Complexes in Solution (R. van Eldik & P. Ford).

Photo-Induced and Spontaneous Proton Tunneling in Molecular Solids (H. Trommsdorff).

The EPR Spectroscopic D Parameter of Localized Triplet Diradicals as Probe for Electronic Effects in Benzyl-Type Monoradicals (W. Adam, et al.).

Photothermal Studies of Photophysical and Photochemical Processes by the Transient Grating Method (M. Terazima).

Indexes.
See More