Underground Space Design: Part 1: Overview of Subsurface Space Utilization Part 2: Design for People in Underground Facilities
ISBN: 978-0-471-28548-9
328 pages
January 1993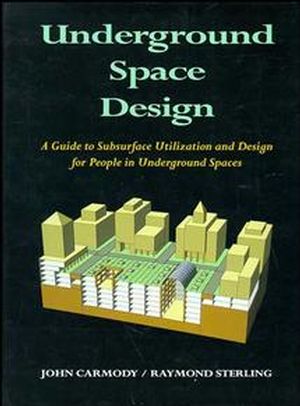 Underground space development may be one of the most significant was to contend with urban predicaments such as congestion, lack of open space, and aging infrastructures. However, designers must consider whether or not people will be willing to live and work in what could be perceived as inhospitable environments. Should people be required to work in underground facilities, Or should underground space be used solely for mechanical or transit services and low-occupancy functions such as storage? What must designers do to create subsurface spaces that will avoid or alleviate the psychological and physiological problems associated with being underground? Underground Space Design is the first comprehensive book on subsurface space utilization throughout the world. The authors supply a complete overview of the entire range of underground uses by reflecting on the past, present, and future of underground development. Underground Space Design is the result of a five-year joint research study by the Underground Space Center at the University of Minnesota and the Shimizu Institute of Technology in Japan. This thorough, scholarly, and practical source offers extensive coverage of the relevant topics including:
* an analysis of current underground land use
* the future of underground development
* comprehensive set of classifications
* a summary of existing research on psychological issues
* exterior and entrance design patterns
* layout and spatial configuration patterns
* interior design patterns
* methods of lighting
* life safety design patterns
Elaborately designed and illustrated, this book is the first complete source to present the broad range of underground design and uses, making it an ideal reference for architects, interior designers, civil engineers, geotechnical engineers, city planners, developers, and environmental psychologists. Underground Space Design is also an excellent introduction to the field, precisely serving the needs of students and other professionals.
See More
OVERVIEW OF SUBSURFACE SPACE UTILIZATION (R. Sterling).

Introduction to Underground Space Utilization.

Benefits and Drawbacks of Underground Facilities.

Underground Space: Classifications and Configurations.

Historical Development and Current Use of Underground Space.

DESIGN FOR PEOPLE IN UNDERGROUND FACILITIES (J. Carmody).

Psychological and Physiological Effects in Underground Space.

Summary of Design Guidelines for Underground Space.

Exterior and Entrance Design.

Layout and Spatial Configuration.

Interior Design Elements and Systems.

Lighting.

Life Safety.

Appendices.

References.

Index.
See More
JOHN C. CARMODY is an architect and the Associate Director of the Underground Space Center at the University of Minnesota. He received his Bachelor of Architecture from the University of Minnesota. His major research interests include the planning, design, and construction of underground facilities with a particular emphasis on the psychological effects on people in enclosed environments. His other research interests include energy-efficient building design, building technology, and life safety in buildings. Mr. Carmody has co-authored several books with Raymond L. Sterling including Earth Sheltered Housing Design, Underground Building Design, and Earth Sheltered Residential Design Manual. RAYMOND L. STERLING is Associate Professor in the Department of Civil and Mineral Engineering and Director of the Underground Space Center at the University of Minnesota. He received his Ph.D and M.S. from the the University of Minnesota in Civil Engineering and Geological Engineering, respectively. His principal fields of interest include underground construction, underground space utilization, rock mechanics, and energy use in buildings. He has co-authored several books with John C. Carmody on underground space development. He is currently Chairman of the U.S. National Committee on Tunnelling Technology of the National Research Council, and he holds the Shimizu Professorship in Civil and Mineral Engineering at the University of Minnesota.
See More