The Aboveground Steel Storage Tank Handbook
ISBN: 978-0-471-28629-5
350 pages
April 1995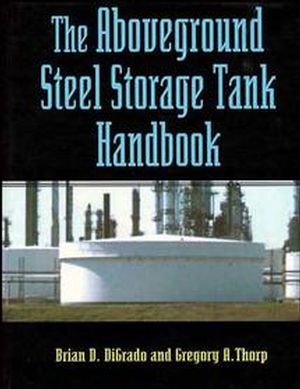 The Aboveground Steel Storage Tank Handbook I like the summary of regulations in conjunction with industry standards and products. Usually a book covers one or the other. --Wayne Geyer, Executive Vice-President, Steel Tank Institute I think this is a valuable text in that it does a very good job presenting the two types of ASTs. --Darryl J. Butkos, Hydrogeologist and Environmental Engineer The U.S. aboveground storage tank (AST) market will approach $2.0 billion in 1995 and has an annual growth rate of approximately 5 percent. Shop-built ASTs have proliferated over the last 10 years and are replacing the underground tanks that have caused a large percentage of groundwater contamination. Larger field-erected tanks are now found at almost every industrial facility because of their greater reliability and the lessened risk of environmental spills. The Aboveground Steel Storage Tank Handbook discusses the myriad of regulations, codes, and manufacturing standards and shows how they are intertwined. It is the first handbook on aboveground storage tanks that explains the unique differences between field-erected ASTs and shop-built ASTs. The authors have divided the Handbook into four easy-to-understand sections: Markets, Regulations, Standards, and Products. Anyone who finds himself or herself working through the maze of the AST compliance paperwork will find this book to be a great benefit as a single-source reference guide.
See More
THE AST MARKET.

The Aboveground Steel Storage Tank Market.

Environmental Issues for Aboveground Storage Tanks.

MAJOR REGULATIONS OF ASTs.

The Clean Water Act.

The Clean Air Act.

Additional Federal Regulations.

National Fire Protection Association Codes.

Additonal Fire Codes.

State Regulations.

MAJOR MANUFACTURING STANDARDS OF ASTs.

American Petroleum Institute Standards.

National Design Standards of Field-Erected Tanks.

Underwriters Laboratories Codes.

Steel Tank Institute Codes.

AST PRODUCTS.

New Field-Erected Aboveground Storage Tank Products.

Existing Field-Erected Aboveground Storage Tank Products.

Shop-Built Aboveground Storage Tank Products.

Shop-Built Aboveground Storage Tank Installation Instructions.

Appendices.

Glossary of Industry Acronyms and Abbreviations.

Index.
See More