Classical Cooking: The Modern Way Recipes, 3rd Edition
ISBN: 978-0-471-28670-7
432 pages
January 1997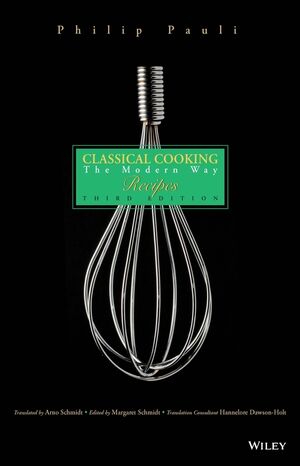 Classical Cooking the Modern Way Recipes Third Edition Philip Pauli Classical Cooking the Modern Way: Recipes, Third Edition embodies over 780 extraordinary recipes from the famed Pauli family. A wider breath of readers now have the opportunity to benefit from this newly revised translation. The original Rezeptbuch der Küche from Switzerland is the most widely-used culinary reference in German-speaking countries. Catering to everyone from apprentice to master chef, this comprehensive collection of classical recipes is one to be savored. Pauli makes recipes even easier to follow by including chef's notes from over 60 respected European chefs he has gathered for review. The translation stays meticulously faithful to the Swiss text.
Listing recipe titles in English, German, and French.
Providing weights and measures in U.S. equivalents.
Suggesting substitutions for ingredients hard to find in the U.S.
This edition is deliciously highlighted with 32 full color photos (finished dishes elegantly arranged to spark ideas for presentation) and supported with significant background data about cooking methods, ingredients, nutritional information, and sanitation concerns. Discover dishes seldom found on menus today, along with updated methodology that stresses basic tried and proven prep techniques that foster a foundation for experimentation. As a reference you'll find excellent answers to all your classical cooking concerns. As a manual for learning basic skills you'll be guided by clear descriptions for making sauces, stocks, main dishes, and desserts. Just one taste illustrates why Pauli's Classical Cooking the Modern Way: Recipes, Third Edition remains a staple on every professional chef's shelf.
See More
Basic Preparations.
Soups.
Appetizers.
Eggs and Cheese.
Fish and Shellfish.
Meat.
Poultry and Game.
Salads.
Vegetables.
Potatoes, Pasta, Rice, and Grains.
Desserts.
Index.
See More