Frank Lloyd Wright: Between Principles and Form
ISBN: 978-0-471-28883-1
224 pages
December 1991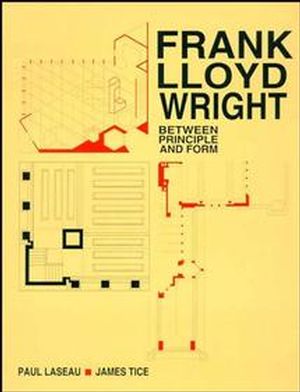 Despite the renewed interest in Frank Lloyd Wright and the increasing body of literature that has illuminated his career, the deeper meaning of his architecture continues to be elusive. His own writings are often interesting commentaries but tend not to enlighten us as to his design methodology, and it is difficult to make the connection between his stated philosophy and his actual designs. This book is a refreshing account that evaluates Wright's contribution on the basis of his architectural form, its animating principle and consequent meaning. Wright's architecture, not his persona, is the primary focus of this investigation. This study presents a comprehensive overview of Wright's work in a comparative analytical format. Wright's major building types have been identified to enable the reader to pursue a more systematic understanding of his work. The conceptual and experiential order of each building group is demonstrated visually with specially developed analytical illustrations. These drawings offer vital insights into Wright's exploration of form and underscore the connection between form and principle. The implications of Wright's work for architecture in general serves as an important underlying theme throughout. This volume also integrates the research of several noted scholars to clarify the interaction of theory and practice in Wright's work, as well as the role of formal order in architectural experience in general. By seeing how Wright integrates his intuitive and intellectual grasp of design, the reader will build a keen awareness of the rational and coherent basis of his architecture and its symbiotic relationship with emotional, qualitative reality. A graphic taxonomy of plans of Wright's building designs helps the reader focus on specific subjects. Among the diverse areas covered are sources and influences of Wright's work, domestic themes and variations, public buildings and skyscraper designs, and the influence of site on design. Complete with a chronology of the master architect's work, Frank Lloyd Wright: Between Principle and Form is an important reference for students, architects and architectural historians.
See More
Seeking an Understanding of Wright's Architecture.

The Sources and Influences.

Wright's Work Typologically Considered.

The Hearth Type.

Hearth Themes and Variations.

The Atrium Type.

The Tower Type.

Site Patterns.

Between Principle and Form.

Architectural Implications.

Chronological List of Wright's Work.

Illustration Credits.

Notes.

References.

Index.
See More
Paul Laseau is a Professor of Architecture in the College of Architecture and Planning at Ball State University. He has also taught at Ohio University and the State University of New York at Buffalo. Mr. Laseau was a partner and co-founder of Wyman, Perry, Laseau, Carpenter Architects, Indianapolis, and principal and co-founder of Building Science, Inc., Architectural Researchers, Buffalo, New York. He has earned a number of professional awards and fellowships, and is the author of Graphic Thinking for Architects and Designers, Second Edition, Inkline Sketching, Visual Notes, and Graphic Problem Solving for Architects and Designers. He is a member of the American Institute of Architects, and the Association for Computer Aided Design in Architecture. He received his M.Arch. degree at the State University of New York at Buffalo. James Tice is currently Associate Professor of Architecture in the school of Architecture and Allied Arts at the University of Oregon. He has previously taught at the Graduate School of Architecture, Planning and Historic Preservation at Columbia University. He has also taught at the University of Southern California, the University of Notre Dame in Rome, Italy, and Ohio University. He has served as senior designer with Richard Meier and Partners of New York City and as principal with Studio Seven, Architecture and Urban Design in Los Angeles. Mr. Tice has received international and national awards for his architectural designs and has been recognized for teaching innovation by the AIA. He is the author of Principles of Architectural Design and co-authored Courtyard Housing in Los Angeles. He earned his M.Arch. degree in Urban Design at Cornell University.
See More