Environmental Epidemiology and Risk Assessment
ISBN: 978-0-471-29066-7
288 pages
December 1992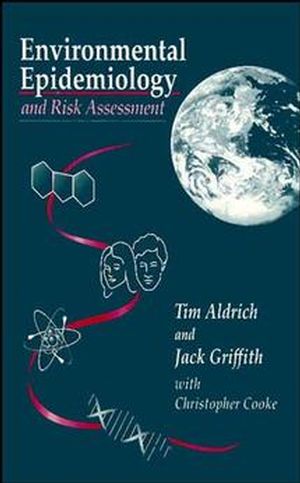 Environmental Epidemiology and Risk Assessment Tim Aldrich and Jack Griffith Environmental Epidemiology and Risk Assessment addresses the historical development of environmental epidemiology, touching on recent sensationalized environmental tragedies such as Love Canal and Chernobyl. Understanding the importance that public opinion plays in the success or failure of any important regulatory decision involving human studies, the authors elaborate the issue of communicating scientific findings to the public. The authors have employed the material in this book while teaching graduate courses in epidemiology and in the application of field studies for environmentally related risk assessment. Environmental Epidemiology and Risk Assessment is convenient for students to use in independent study, while instructors can use it as a reference and background source for classroom lectures. Each chapter contains a list of specific learning objectives, a detailed narrative including illustrations and case histories, and instructive assignments. The authors have also provided a list of recommended reading which complements the extensive bibliography and selected glossaries. This comprehensive text provides state-of-the-art instruction in the methodologic considerations with the design and conduct of environmental epidemiologic studies. The authors discuss disease mechanisms, the study of disease clusters, and surveillance techniques as these topics relate to environmental epidemiology. Environmental Epidemiology and Risk Assessment is a compilation of over thirty years of practical experience, university and public agency instruction, federal agency experiences, and community investigations, bringing together disparate scientific disciplines and offering the most comprehensive compendium of information to be found on the subject. Although this book serves as a reference text for trained epidemiologists, it places considerably more emphasis than is commonly found in epidemiologic texts on exposure monitoring, the use of biomarkers in epidemiologic studies, laboratory practices for environmental sampling, risk assessment, risk management, and environmental law. This "how to" book is an invaluable source for public health professionals with limited didactic training in epidemiology, but with interests and professional responsibilities that require a working understanding of the discipline.
See More
Public Awareness, Federal Policy, and Environment Epidemiology.

Epidemiology: The Environmental Influence.

Epidemiologic Research Methods.

Disease Clusters.

Surveillance Activities in Disease and Exposure Situations.

Characterizing Human Exposure.

Laboratory Practice.

Biomarkers in Environmental Epidemiology.

Disease and the Environment.

Risk Assessment.

Public Communication, Participation, Risk Management.

Legal Aspects of Environmental Epidemiology.

Index.
See More