The Complete Guide to Hazardous Waste Regulations: RCRA, TSCA, HTMA, EPCRA, and Superfund, 3rd Edition
ISBN: 978-0-471-29248-7
560 pages
February 1999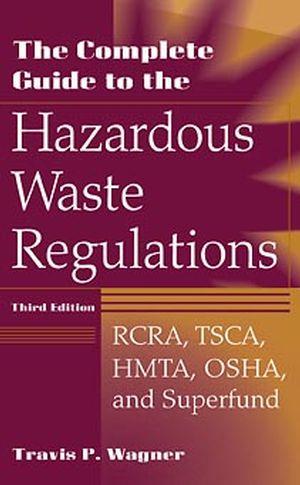 "A very well-written handbook." --Ground Water (on the Second Edition)

"Presented in a very readable and understandable format." --The Hazardous Waste Consultant (on the Second Edition)

The foremost in-depth survey of federal hazardous waste regulations in the United States--now in a new edition

The Complete Guide to the Hazardous Waste Regulations is a proven source of clear information on a regulatory system that many find frustratingly complex. Now updated to include additional compliance checklists, Internet resources, and more, this Third Edition provides vital information on all aspects of hazardous materials, from proper on-site management and transportation to appropriate off-site management and cleanup. Author Travis Wagner, one of the nation's leading experts on the subject, provides a step-by-step approach to compliance that goes beyond summarization to help industry professionals truly understand regulations and how they relate to real-world situations. Complete with dozens of user-friendly checklists, flow charts, text boxes, and tables, this indispensable resource includes:
* Information on EPA interpretations of regulations not included in other handbooks
* Clear explanations of many state-level hazardous waste requirements
* A new chapter on spill reporting, giving a step-by-step explanation with attention to multiple federal laws
* An appendix listing the Superfund and EPCRA reportable quantity for each RCRA hazardous waste
* Additional appendices covering RCRA hazardous wastes, hazardous constituents, groundwater monitoring constituents, permit modification classifications, additional information sources, and important acronyms
See More
THE RESOURCE CONSERVATION AND RECOVERY ACT.

Key Definitions Under RCRA.

Hazardous Waste Identification/Classification.

Generators.

Shipping and Transportation.

General Standards for Hazardous Waste Management Facilities.

Technical Standards for Hazardous Waste Management Units.

Permits and Interim Status.

Land Disposal Restrictions.

Corrective Action.

Enforcement and State Authorization.

SUPERFUND.

Key Definitions Under Superfund.

Release Reporting Requirements.

Response Actions Under Superfund.

Remedial Response.

Miscellaneous Provisions Under Superfund.

THE TOXIC SUBSTANCES CONTROL ACT.

Key PCB Definitions.

Use, Storage, and Disposal of PCBs.

PCB Spill Cleanup Requirements Appendices.

Index.
See More
TRAVIS P. WAGNER is an environmental scientist with Science Applications International Corporation in Falls Church, Virginia. He has more than sixteen years of experience in the hazardous waste field and is the author of a number of books, including In Our Backyard: A Guide to Understanding Pollution and Its Effects.
See More