Developing Products in Half the Time: New Rules, New Tools, 2nd Edition
ISBN: 978-0-471-29252-4
320 pages
October 1997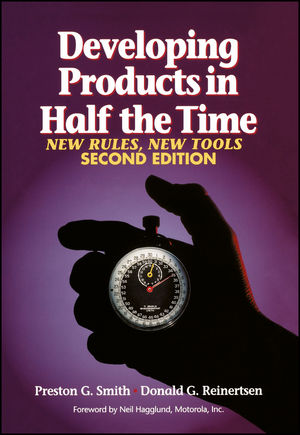 Advance praise for Developing Products in Half the Time Second Edition New Rules, New Tools Preston G. Smith * Donald G. Reinertsen "This is an exceptional book! Get a new highlighter before you start. There are so many 'ah ha's' in each chapter you will never make it through with an old one." Don LaCombe, Ford Motor Company, Product Development Process Leadership "An excellent book with a strong treatment of the cycle-time consequences of overloading your development capacity. It provides powerful and practical concepts for dealing with this issue." Andrew Aquart, Director Product Development, Cordis, a Johnson & Johnson Company "This is practical, useful stuff for people competing in highly competitive fast moving business." Dr. Paul Borrill, Chief Scientist, Sun Microsystems "3M has absorbed many of the tools from the original edition, and this new one will be even more useful. The topic of incremental innovation is crucial to us, and I really appreciate its balanced treatment." Ronald H. Kubinski, Manager New Product Commercialization Services, 3M Company "As the authors correctly point out, the Fuzzy Front End is the least expensive place to reduce cycle time. This book is one of the only sources of concepts, methods, and metrics for compressing this critical portion of the development process." David M. Lewis, Product Manager, Eastman Kodak Co. "Using these tools we've more than cut our time to market in half. The new edition of this classic crystallizes the synergy of the fast-to-market techniques, and the icons in the margins highlight the opportunities and pitfalls." Mike Brennan , Vice President of Product Development, Black & Decker
See More
Faster and Still Faster.

Putting a Price Tag on Time.

The Fuzzy Front End.

The Power and Pitfalls of Incremental Innovation.

Capturing Customer Needs.

Using System Design to Compress Schedules.

Forming and Energizing the Team.

Organizing for Communication.

Designing Fast Development Processes.

Controlling the Process.

Preventing Overloads.

Managing Risk Proactively.

Bridging the RManufacturing Gap.

The Role of Top Management.

Making Changes Faster.

Index.
See More
PRESTON G. SMITH has concentrated on helping companies to accelerate their development since 1984, both as an internal consultant and as an independent consultant. He has 20 years of prior engineering and management experience and holds a Ph.D. in engineering from Stanford. DONALD G. REINERTSEN has become one of the leading international experts on rapid product development since his breakthrough work in the early 1980s at McKinsey & Co. An electrical engineer and Harvard M.B.A., he teaches a popular executive course on product development at Cal Tech and is also author of the book Managing the Design Factory.
See More