World-Class Teams: Working Across Borders
ISBN: 978-0-471-29265-4
336 pages
October 1998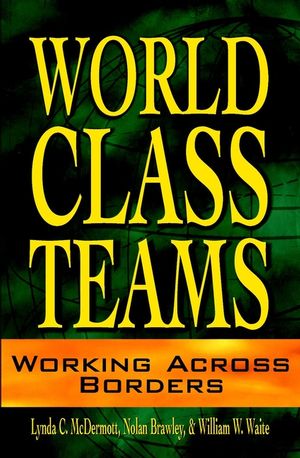 From a leading authority in the field, a groundbreaking look at harnessing the power of cross-functional global teams

"World Class Teams is an invaluable resource for any company executive looking to break through functional and cultural walls to compete effectively in the global marketplace." -Vic Micati, Executive Vice President, Pfizer Pharmaceuticals Group

"As a global company, we know what it takes to compete in the international marketplace. This book offers valuable answers and practical strategies for doing just that. World Class Teams is in a class by itself." -Cathie Black, President, Hearst Magazines

"A well-focused book with immediate practical application for global businesses. The toolkits will help avoid reinventing best practice and enable teams to get off to a running start. Everyone is setting up teams but hardly anyone is setting them up well-this book will help you do that." -Andy Owen-Jones, General Manager, Information Services, Virgin Atlantic

"While there are many books written about 'teams,' World Class Teams is the best book I have read recently. It provides practical insights for creating and leading teams that are highly diverse and, perhaps, geographically dispersed. A must read!"- Julie O'Mara, O'Mara Past President, American Society for Training and Development

"Terrific! World Class Teams is user friendly, practical, experience-based and comprehensive . . . [it is] a veritable toolkit for both team leaders and consultants." -Donna McNamara, Director, Global Education & Training, Colgate-Palmolive Company

To compete successfully in today's global marketplace, companies have to be lean, flexible, and responsive to their customers. They must also be creative, quick, and customized so they can adapt to new market opportunities. To achieve this, more and more organizations are rejecting their hierarchical, functionally driven pyramid structures in favor of a flatter, team-based approach that brings together individuals from diverse backgrounds and specializations who can pool their expertise. As many in the business arena are realizing, the concept of teamwork is quickly becoming a key global competitive strategy for developing and delivering innovative products and services in a faster, more efficient manner.

In World Class Teams, Lynda McDermott and her coauthors draw heavily from their experience with such international firms as Pfizer, Colgate, AT&T, Coopers & Lybrand, and Motorola to give managers, executive training organizations, team leaders, and HR and OD specialists a hands-on guide that will help them develop, launch, lead, and evaluate world class teams. An ASTD award winner for her work in the field, McDermott addresses the major issues surrounding the creation and management of cross-functional global teams.

Although organizations are rushing to form teams, few invest the time and resources necessary to help lay the groundwork for productive cross-functional/cross-cultural team success. Offering real-world answers and practical strategies, this broad-based fieldbook provides specific guidelines on how teams can become "world class" performers. Each topically organized chapter answers a wide range of key issues, including:
* Selecting and developing world class team leaders
* Methods for measuring and rewarding performance
* Team-based goal setting
* Leveraging today's technology for maximum team performance
* Managing the functional and cultural borders of world class teams

Written in accessible terms, World Class Teams can help anybody involved with team building manage such essentials as internal team processes, competition among teams for resources and recognition, individuals who don't want to function as interdependent team members, and compensation systems that reward teams as opposed to solo performances.

Packed with individual and team exercises, as well as useful toolkits filled with techniques, models, and sample documents, this is must reading for anyone looking to build and maintain a strong world class team.
See More
THE QUEST FOR WORLD-CLASS TEAMS.

Teamwork as a Global Competitive Strategy.

World-Class Teams: A Model for High Performance.

LAUNCHING WORLD-CLASS TEAMS.

The Role of Senior Executives in a World-Class Team SetUp.

World-Class Team Charter and Boundaries.

Aligning with World-Class Team Stakeholders.

DEVELOPING WORLD-CLASS TEAMS.

World-Class Team Values and Operating Agreements.

World-Class Team Roles and Skills.

Valuing Cultural Diversity.

LEADING WORLD-CLASS TEAMS.

Selecting and Developing World-Class Team Leaders.

Leading and Aligning World-Class Teams for High Performance.

MEASURING, MANAGING, AND REWARDING WORLD-CLASS TEAM PERFORMANCE.

Team-Based Goal Setting.

Measures of Success for World-Class Teams.

Rewarding World-Class Team Performance.

Diagnosing for World-Class Team Performance.

MANAGING THE FUNCTIONAL AND CULTURAL BORDERS OF WORLD-CLASS TEAMS.

The Power of Global Collaboration.

Beyond Matrix Management: Crossing the Borders of World-Class Teams.

Technologies for Teams.

Epilogue: Lessons Learned about Team Learning.

Appendices.

Notes.

Index.
See More
LYNDA C. MCDERMOTT is President of EquiPro International. She has served on the board of the American Society for Training and Development and has received industry awards based on her contributions to the business world. She is a bestselling author, frequent speaker, and is often quoted as an industry expert by the business press, including the Wall Street Journal, Washington Post, Chicago Tribune, and Business Week. NOLAN BRAWLEY is Director of Pharmaceutical Training and Development for Pfizer Pharmaceuticals. He consults internally with 52 international subsidiaries on team and leadership development. WILLIAM W. WAITE is Kxecutive Vice President of EquiPro International, headquartered in New York City. He was formerly director of CIGNA Corporation and has consulted extensively with executive teams in over 25 countries.
See More