The Prudent Investor's Guide to Hedge Funds: Profiting from Uncertainty and Volatility
ISBN: 978-0-471-32336-5
256 pages
December 2000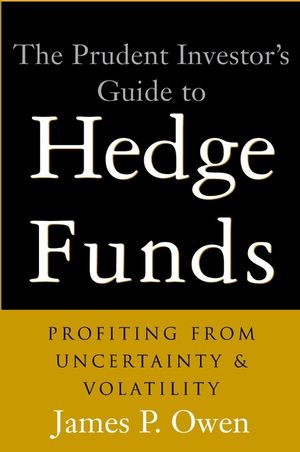 Hedge funds are typically thought of as highly risky investments. Not so. In fact, some hedge funds are among the most conservative investments you can make. While speculative, high-flying hedge funds make the headlines, others quietly go about the work of crafting unique investment strategies and hedging portfolios against market risk. This much-needed book shows why affluent investors who want to be financially secure through retirement should know about hedge funds. Its blend of facts, practical tips, and personal insights takes the mystery out of this often misunderstood investment vehicle and reveals the critical questions to ask before you invest. James P. Owen (Santa Barbara, CA) has more than 30 years of experience in the investment management industry and is Senior Vice President of Broadmark Asset Management. Previously he was President of JPO Inc. and a partner with NWQ Investment Management Company. He is co-founder of the Investment Management Consultant s Association (IMCA); author of the financial bestseller, The Prudent Investor: The Definitive Guide to Professional Investment Management; and was associate producer of the PBS television series,Beyond Wall Street: The Art of Investing
See More
Acknowledgments.

Preface.

WHY CONSERVATIVE INVESTORS SHOULD KNOW ABOUT HEDGE FUNDS.

What's Wrong with Traditional Money Management?

How Did Investment Management Go Astray?

The Growing Appeal of Alternative Investments.

WHAT HEDGE FUNDS HAVE TO OFFER.

What Exactly Is a Hedge Fund, Anyway?

A Look at Hedge Fund Performance.

Narrowing the Field: "The Big Four" Strategies.

Is There a Hedge Fund Strategy for All Seasons?

MAKING HEDGE FUND INVESTMENTS.

Investing in Hedge Funds--How Much?

Tapping into the Wealth of Resources.

Selecting a Hedge Fund That's Right for You.

Getting Comfortable with the Terms of the Deal.

Staying on Top of Your Investment.

Closing Thoughts.

Index.
See More
JAMES P. OWEN has over thirty years of experience in the investment management industry and is Senior Vice President of Broadmark Asset Management. Previously, he was president of JPO Inc., and a partner with NWQ Investment Management Company. Mr. Owen is cofounder and Chairman Emeritus of the Investment Management Consultants Association (IMCA), and author of the financial bestseller The Prudent Investor: The Definitive Guide to Professional Investment Management. He has also worked on the PBS television series Beyond Wall Street as associate producer, and served as president of the Board of Trustees of the Santa Barbara Museum of Art. If you have a question for Mr. Owen, want more resources, or would like to join in on the dialogue on classic hedge investing, please visit www.prudentinvestor.com.
See More