How to Get into the Entertainment Business: Behind-the-Scenes Jobs that Pay $100,000 or More a Year!
ISBN: 978-0-471-32620-5
224 pages
April 1999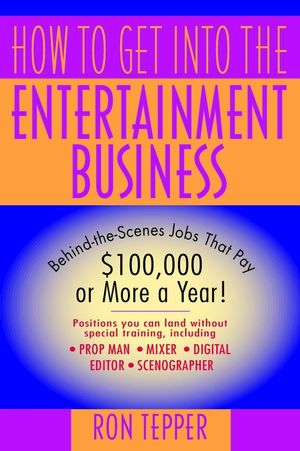 This book is the first step-by-step guide that tells you how to get into one of the most glamorous and highest paying industries in the country. Forget about theoretical advice. Instead, award-winning (Oscar(r), Emmy(r), and Grammy(r) ) pros tell you exactly how they got into the business. Twenty-four of the industry's most successful professionals explain how to break into and land three dozen of the top jobs in entertainment.

What does it take to make it into the entertainment business today? What kind of training (if any) is needed? How did the pros get their start? Where are the openings? How do you find them? How do you break into the business? How can you make it if you don't live in New York or Hollywood? These questions and many more are answered in this remarkable insider's guide. Read about the one thing every one of these pros had in common--regardless of whether they were producers, directors, cameramen, or sound mixers. Discover how they made more than $100,000 a year--and how you can do the same in a career that is exciting as well as rewarding.

Whether you are looking for your first job in entertainment or a major career change, this comprehensive, informative guide will show you everything you need to succeed. From finding your first break to climbing the ladder to the top--this book tells it all!
See More
Background and Needed Characteristics.

The First Breaks--How to Find Them.

Climbing the Ladder.

Getting to the Top--Some of the Jobs That Get You There and What You Actually Do.

More Opportunities, Plus the Pitfalls, Money, and Future.

Inside Tips and a Look Behind the Scenes.

Index.
See More
RON TEPPER is a writer, editor, and entertainment industry veteran who spent more than a decade in the entertainment industry where he dealt with a variety of artists ranging from the Beatles to Glen Campbell. He has written numerous books, including Power Resumes and How to Become a Top Consultant, both published by Wiley.
See More