Managing the Risks of Payment Systems
ISBN: 978-0-471-32848-3
256 pages
May 2003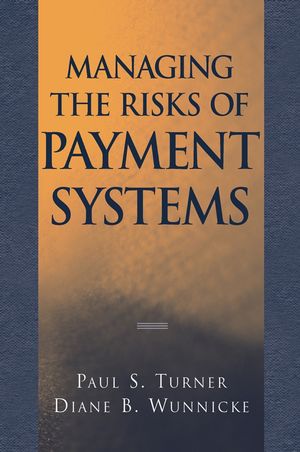 Provides a comprehensive overview of sources of corporate risk and major control measures.
Identifies risks inherent in corporate payments systems.
Shows how to assess credit risk, develop policies, and control the entire risk management process.
See More
Preface.
Chapter 1. "We Didn't Know" Is No Excuse.
Chapter 2. Payment Systems Survey.
Chapter 3. Checks and the Risk of Fraud.
Chapter 4. Wire Transfers: Originator to Its Bank to Receiving Bank.
Chapter 5. Wire Transfers: Completing the Transfer and Rules for Errors.
Chapter 6. Risks of Automated Clearing House Payments.
Chapter 7. Commerce and Payments in Cyberspace.
Chapter 8. Management of Corporate Payment Systems Risks.
Glossary.
References.
Index.
See More
PAUL S. TURNER is the author of numerous articles and books, including Law of Payment Systems and EFT and "Negotiating Wire Transfer Agreements: A Guide for Treasury Executives, Bankers & Attorneys." He practices banking and commercial law and consults on legal matters, with offices in Los Angeles, California. He first became familiar with the risks of payment systems as a lawyer at Occidental Petroleum Corporation, where as an assistant general counsel he advised the Occidental treasury department. He was an official advisor to the uniform law commissioners who wrote Article 4A (Funds Transfers) of the Uniform Commercial Code (UCC) and revised UCC Articles 3 (Negotiable Instruments), 4 (Banks Deposits and Collections), and 5 (Letters of Credit). He has served as a member of the Payments Advisory Group of the Association for Financial Professionals and is vice chair of the American Bar Association's Payments Committee, a subcommittee of the Association's Business Law Section. He is the coauthor, with Diane and Brooke Wunnicke, of Standby and Commercial Letters of Credit, Second Edition.
DIANE B. WUNNICKE is a veteran corporate finance manager and consultant, with offices in Denver, Colorado. She was introduced to corporate payment systems risks in the 1970s while working on the first online savings and loan customer systems for a large financial institution. During the 1980s to mid-1990s, as the finance and funds manager for a global energy company, she tested and used every new cash management product that would help both domestic and international multicurrency payment operations. Her articles and books include Corporate Financial Risk Management: Practical Techniques of Financial Engineering. She is also the coauthor, with Paul Turner and Brooke Wunnicke, of Standby and Commercial Letters of Credit, Second Edition.
See More