Extraordinary Relationships: A New Way of Thinking About Human Interactions
ISBN: 978-0-471-34690-6
240 pages
December 1992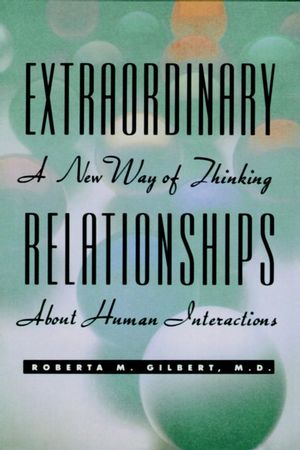 Turn any Relationship into an Extraordinary Relationship "A refreshing alternative to common self-help approaches." --Michael E. Kerr, M.D., Director, Georgetown Family Center, Washington, D.C. and coauthor with Dr. Murray Bowen of Family Evaluation After food, water, and shelter, relationships are the most important factors in determining your quality of life. At work, productivity and efficiency depend on relationships. At home, relationships with your spouse, children, and friends are keys to success and happiness. And among nations, relationships start and stop wars. This invaluable guide shows that only by further developing yourself can you further develop your relationships. Based on the innovative family systems theory pioneered by the late Dr. Murray Bowen, this important and penetrating book offers practical and authoritative family therapy advice that has helped thousands of people throughout the last three decades. It's a blueprint to better relationships that tells how the principles of family systems theory can be used in all arenas of your life, including intimate relationships, friendships, family relationships, single life, workplace relationships, international relationships, and your relationship with yourself. "A perfect and unpretentious primer of family relationships . a relief to read." --Dr. Walter Toman, Professor Emeritus, Erlangen-Nurnberg University, Germany, and author of Family Constellation
See More
A NEW WAY OF THINKING ABOUT RELATIONSHIPS.

Dr. Bowen's Extraordinary Way of Thinking.

A Theory About Relationships.

Differentiation of Self.

Thinking Systems, Watching Process.

Relationship Patterns and Postures.

Emotions in Relationships.

Conflict.

Distance.

Cutoff.

Overfunctioning/Underfunctioning Reciprocity.

Triangles.

Repetitions.

Family Constellation and Sibling Position.

When Relationships Go Off Course.

PORTRAIT OF AN EXTRAORDINARY RELATIONSHIP.

The Ideal--Separate, Equal, and Open.

TOWARD BETTER RELATIONSHIPS.

Growing a Self.

Managing the Emotional Self in Relationships.

Processing Feelings and Dealing with Crisis.

Ten Misconceptions That Can Defeat a Relationship and Ten Ways to Promote Success.

Living Out the Theory.

Epilogue.

Reading Notes.

Appendices.

Index.
See More
Roberta Gilbert, M.D., is a psychiatrist in private practice and on the faculty of the Georgetown Family Center. She is also a consultant to therapists for case supervision at the Arlington Mental Health Center, Arlington, Virginia.
See More