The Masterbrand Mandate: The Management Strategy That Unifies Companies and Multiplies Value
ISBN: 978-0-471-35659-2
336 pages
September 2000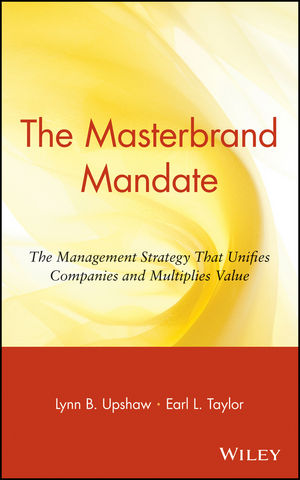 Advance Praise for The Masterbrand Mandate "The Masterbrand Mandate is an exceptional book that successfully demonstrates why it is the responsibility of the entire enterprise, led by senior management, to drive the masterbrand throughout the company as a critical part of its strategy." -Bruce L. Claflin President and COO, 3Com Corporation "The Masterbrand Mandate shows why successful brands must both reflect and guide the organizational values, culture, and business strategy in this Internet age. It is a 'now' book that anyone managing an organization should read." -David Aaker Vice Chairman, Prophet Brand Strategy and Coauthor of Brand Leadership "The Masterbrand Mandate is a superb read for anyone involved in the management or building of brands." -Steven McMillan President and COO, Sara Lee Corporation "The Masterbrand Mandate is on the money-literally and figuratively! Both visionary and practical, it successfully tackles the modern challenges of brand-building head-on. This book is an invaluable guide for designing breakthrough brand strategies in the new economy." -Kevin Lane Keller E. B. Osborn Professor of Marketing, Dartmouth College "Lynn Upshaw and Earl Taylor have written an extraordinary blueprint for building a formidable enterprise-wide masterbrand. Every CEO-and everyone who hopes to be a CEO-should read this book." -Charles Brymer Group Chief Executive, Interbrand Corporation
See More
Built to Change.

MANDATE: BUILD THE CUSTOMER'S COMMUNITY.

Grow the Masterbrand Community.

Interactivate the Brand.comm.

Extend the Online Community.

Masterbrand: Sun Microsystems.

THE INSIDE JOB: COACH THE CUSTOMER'S TEAM.

Coach the Customer's Team.

Organize to Brand-Build.

Masterbrand: Charles Schwab & Co.

Unify the Diverse Community.

THE WORLD OUTSIDE: MANEUVER THE MASTERBRAND.

Outbrand the Competition.

Masterbrand: America Online.

Interglocalize the Masterbrand.

Moving Forward with the Mandate.

Epilogue.

Endnotes.

Additional Sources.

Acknowledgments.

Index.

About the Authors.
See More
LYNN B. UPSHAW is a leading brand strategist and corporate consultant whose clients have included a broad range of Fortune 500 and Internet companies. He is the author of Building Brand Identity (Wiley), and coauthor of a monthly online analysis of Internet brand building. EARL L. TAYLOR, PhD, is Senior Vice President of Research International/Cambridge, and a frequent advisor to major corporations on brand research and brand-building programs.
See More