Flight Theory and Aerodynamics: A Practical Guide for Operational Safety, 2nd Edition
ISBN: 978-0-471-37006-2
336 pages
May 2000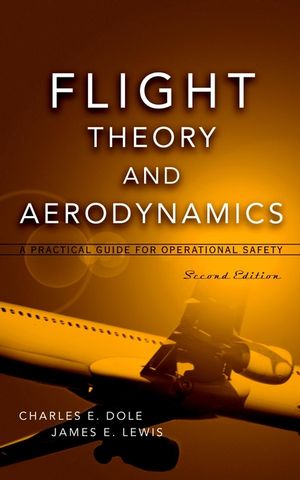 The classic text for pilots on flight theory and aerodynamics now in an updated Second Edition

Flight Theory and Aerodynamics, the basic aeronautics text used by the United States Air Force in their Flying Safety Officer course, is the book that brings the science of flight into the cockpit. Designed for the student with little engineering or mathematical background, the book outlines the basic principles of aerodynamics and physics, using only a minimal amount of high school level algebra and trigonometry necessary to illustrate key concepts.

This expanded seventeen chapter Second Edition reflects the cutting edge of aeronautic theory and practice, and has been revised, reorganized, and updated with 30% new information including a new chapter on helicopter flight. Central to the book s structure is a clear description of aeronautic basics what lifts and drives an aircraft, and what forces work for and against it all detailed in the context of the design and analysis of today s aircraft systems:
* Atmosphere and airspeed measurement
* Airfoils and aerodynamic forces
* Lift and drag
* Jet aircraft basic and applied performance
* Prop aircraft basic and applied performance
* Slow and high-speed flight
* Takeoff, landing, and maneuvering performance


The book s practical, self-study format includes problems at the end of each chapter, with answers at the back of the book, as well as chapter-end summaries of symbols and equations. An ideal text for the USN Aviation Safety Officer and the USAAA s Aviation Safety Officer courses, as well as for professional pilots, student pilots, and flying safety personnel, Flight Theory and Aerodynamics is a complete and accessible guide to the subject, updated for the new millennium.
See More
Atmosphere and Airspeed Measurement.

Airfoils and Aerodynamic Forces.

Lift.

Drag.

Jet Aircraft Basic Performance.

Jet Aircraft Applied Performance.

Propeller Aircraft -- Basic Performance.

Propeller Aircraft -- Applied Performance.

Helicopter Flight Theory.

Slow-Speed Flight.

Takeoff Performance.

Landing Performance.

Maneuvering Performance.

Longitudinal Stability and Control.

Directional and Lateral Stability and Control.

High-Speed Flight.

Answers to Problems.

References.

Index.
See More
A former marine, the late CHARLES E. DOLE taught flight safety for 28 years to officers of the U.S. Air Force, Army, and Navy, as well as at the University of Southern California.

JAMES E. LEWIS is a former aeronautical engineer for the Columbus Aircraft Division of Rockwell International and a retired Ohio National Guard military pilot. He is currently an Associate Professor of Aeronautical Science at Embry Riddle Aeronautical University in Daytona Beach, Florida.
See More