Accounting Handbook for Medical Practices
ISBN: 978-0-471-37009-3
358 pages
May 2000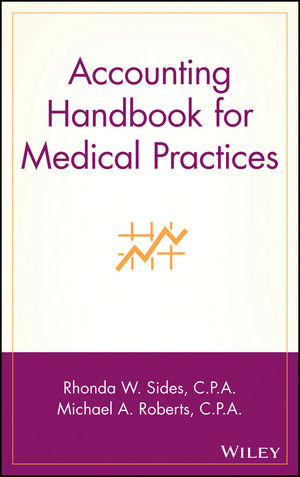 Physicians and their medical practices today face innumerable problems and challenges in analyzing current market changes in the medical field.
Do they understand and have the skills and knowledge to make advantageous decisions related to the increasingly complex situations in which they find themselves? Do they merge, oversee their office managers more closely, sign their own checks, and scrutinize accounts, or do they need a professional to come in and evaluate their practice and prepare a comprehensive financial assessment?
This Accounting Handbook for Medical Practices gives physicians a valuable, usable, and readable journey through the proper processes of financial accounting and related issues. Sample charts, accounting formulas, and informative case studies enhance each chapter.
Why Accounting and Financial Decisions Challenge Medical Practices and How to Address Them
This book tells you what inefficiencies currently cost most physicians and their medical practices. In addition to providing you with financial analysis charts, you will find in these pages:
General rules for accounting
Detailed outlines of financial statements
Audit standards
Operating expense analyses
Special medical practice issues
Case studies
Cost-accounting examples
Internal control relating to medical practices
Tax issues
The Accounting Handbook for Medical Practices is a must-have for CPAs, accountants, physicians, physician practice management companies, hospital personnel, medical practice administrators, management consultants, and a range of others involved in related issues.
See More
Financial Statement Overview.

Sample Chart of Accounts for a Medical Practice.

Compilation, Review, and Audit Standards, Prospective Financial Statements, and Ethics.

Financial Statement Analysis for a Medical Practice.

Internal Control Accounting Related to Medical Practices.

Cost Accounting.

Special Accounting Issues Related to Medical Practices.

Tax Issues Affecting Medical Practices.

Appendices.

Index.
See More
RHONDA W. SIDES, CPA, is Director, Nashville Physician Services, with Home CPA Group in Nashville, Tennessee. She specializes in practice valuations, cost accounting, operational assessments, and financial feasibility issues related to group and integrated delivery system development. Ms. Sides lectures nationally for health care and financial organizations, including Southern Medical Association, and is actively sought for her ability to combine the practicality of accounting with the needs of health care practice management. She is a licensed CPA in Georgia and Tennessee and is a member of the Georgia and Tennessee Societies of CPAs, the American Institute of CPAs, and the Healthcare Financial Management Association. Ms. Sides is a candidate member of the American Society of Appraisers. She coauthored Valuation of a Medical Practice, also published by Wiley, and she is an adjunct professor at Belmont University, Nashville, Tennessee.
See More