Healing Hypertension: A Revolutionary New Approach
ISBN: 978-0-471-37643-9
256 pages
December 1999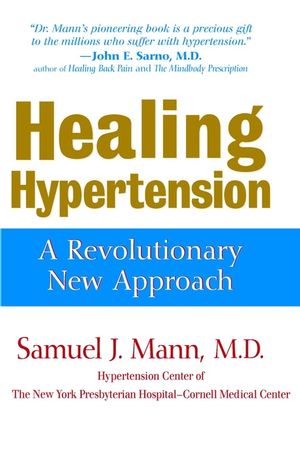 A PIONEERING APPROACH TO OVERCOMING HIGH BLOOD PRESSURE
If you are one of the millions of people diagnosed with high blood pressure, this groundbreaking book can change your life. Unique in combining a medical and a psychological approach, Samuel J. Mann, M.D., explains:
How you can tell whether or not your high blood pressure is related to emotions
How to find the medication best suited for you, and when to reduce or eliminate unnecessary medication
How exploring "hidden" or repressed emotions can reduce your blood pressure and the need for medication
Featuring compelling and instructive case histories as well as the latest medical research, Healing Hypertension can help you make sense of your high blood pressure while offering new choices for controlling it.
"In Healing Hypertension, Dr. Samuel Mann pushes the boundaries of medicine by demonstrating the emotional components of hypertension, one of the most serious health problems of our day. Healing Hypertension shows that it is not enough to attend to our physical bodies; we must look to our emotional life as well if we expect to be healthy and whole. This is an immensely important book."
-Larry Dossey, M.D., A
Author of Healing Words and Reinventing Medicine
See More
HYPERTENSION: THE GREAT MYSTERY.
Unearthing the Causes of Hypertension.
Do You Really Have Hypertension?
The False Promise of Popular Beliefs about Stress and Hypertension.
SOLVING THE MIND-BODY MYSTERY.
What Are Hidden Emotions?
The Emotional Trauma Locked Inside Us.
When We Don't Know Our Own Emotions.
The Enigma of Episodic Hypertension.
The Fate of Hidden Emotions.
Hidden Emotions in Other Disorders.
HEALING.
Are Hidden Emotions Causing Your Hypertension?
Healing Hypertension by Honoring Our Emotions.
Getting the Help You Need.
Choosing the Best Medication.
Healing, Medicine, and Society.
Appendix.
Bibliography.
Index.
See More
Samuel J. Mann, M.D., is a physician, researcher, and associate professor of clinical medicine at the renowned Hypertension Center of the New York Presbyterian Hospital-Cornell Medical Center. His work has been featured in the New York Times and other publications. He lectures widely and has published many articles in professional journals. Visit Dr. Mann's Web site at
www.healinghypertension.com
.
See More