Beyond Heterochrony: The Evolution of Development
ISBN: 978-0-471-37973-7
392 pages
October 2001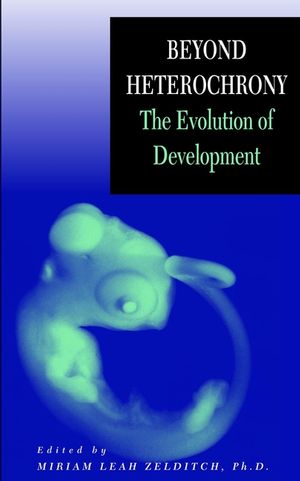 The ten chapters in Beyond Heterochrony: The Evolution of Development explore the evolution of biological development from many different perspectives. They present their research and consider all sides of the often controversial concept of heterochrony without intellectual limits.

In looking beyond heterochrony, this book attends to a variety of explanations for evolutionary development. The chapters present theoretical and practical approaches with real data, using examples from both extant and extinct forms of animal and plant life to present refreshing and at times divergent perspectives on the subject.

Each chapter offers a substantive and original contribution to the literature, with case studies that explore the developmental basis of morphological evolution in a unique way. They address a number of issues and provide real data on which their conclusions rest, as well as the phylogenetic context of evolutionary interpretations.

The book includes thorough analysis of the ontogeny and phylogeny of shape-for decades the very heart of studies of heterochrony-and also presents novel approaches with new hypotheses. The hypotheses considered are as diverse as their analytical methodologies: each goes beyond heterochrony in a different way and in so doing, steers the discussion of the evolution of development in fascinating new directions.
See More
Foreword (Brian K. Hall).

Preface.

Contributors.

1. The Developmental Basis of Morphological Disarmament in Prunum (Neogastropoda: Marginellidae) (Ross H. Nehm).

2. Ontogenetic Sequences: Homology, Evolution, and the Patterning of Clade Diversity (Larry Hufford).

3. A Detailed Scenario and Possible Tests of the Mostly Male Theory of Flower Evolutionary Origins (Michael W. Frohlich).

4. Allometric Patterning in Trilobite Ontogeny: Testing for Heterochrony in Nephrolenellus (Mark Webster, H. David Sheets, and Nigel C. Hughes).

5. The Spatial Complexity and Evolutionary Dynamics of Growth (Miriam Leah Zelditch, H. David Sheets, and William L. Fink).

6. Spatial and Temporal Growth Patterns in the Phenotypically Variable Littorina saxatilis: Surprising Patterns Emerge from Chaos (Robert Guralnick and James Kurpius).

7. Pigment Patterns of Ectothermic Vertebrates: Heterochronic vs. Nonheterochronic Models for Pigment Pattern Evolution (David M. Parichy).

8. Testing the Hypothesis of Heterochrony in Morphometric Data: Lessons from a Bivalved Mollusk (Peter D. Roopnarine).

9. Testing Modularity and Dissociation: The Evolution of Regional Proportions in Snakes (P. David Polly, Jason J. Head, and Martin J. Cohn).

10. Novel Features of Tetrapod Limb Development in Two Nontraditional Model Species: A Skink and a Direct-Developing Frog (Michael D. Shapiro and Timothy F. Carl)

Index.
See More
"...contains excellent reviews of the assumptions and mathematical bases that underlie heterochrony analyses..." (
Evolutionary Anthropology
)
"...biologists here consider that for too long [heterochrony] has been thought of as the single significant mechanism..." (SciTech Book News, Vol. 26, No. 2, June 2002)
"...a valuable contribution because of its wide compass and unfamiliar examples..." (British Society for Developmental Biology)
"...provides a valuable set of case studies that attempt to approach the concept of heterochrony rigorously..." (Heredity, 2003)
"The book certainly lives up to its title: it not only provides new data and analyses for classical and novel examples of heterochrony, but also suggests alternative interpretations or ways to describe evolutionary changes. The strongest point of the book is the serious attempt made by most of the authors to incorporate an explicit phylogenetic analysis." —David H. A. Fitch, New York University
"Patterns of covariation permeate the study of evolution and development. This book provides a badly needed fresh look at these patterns, and does so in a reasonable and balanced way. It critiques the excessive simplicities of past approaches (such as that all developmental evolution is heterochrony) and provides constructive suggestions for improving them." —Michael L. McKinney, Director, Environmental Studies Program and Professor of Geological Sciences and Ecology/Evolutionary Biology, University of Tennessee
See More
Buy Both and Save 25%!
Beyond Heterochrony: The Evolution of Development (US $153.50)
-and- Atlas of Human Anatomy (US $92.95)
Total List Price: US $246.45
Discounted Price: US $184.83 (Save: US $61.62)
Cannot be combined with any other offers. Learn more.